HOME
Subscribe to posts
PUT THE MASK ON...NOW!
It's been a while since we've delved into the world of freaky film. Well, this time I've selected one of the weirdest ever to focus on. This would be the first true Canadian horror film, the surreal 1961 shockfest "THE MASK", filmed and released in 3-D! No, this isn't the Jim Carrey multiplex abomination, but something altogether more disturbing and innovative. Join me as we descend into the misty hell of an undead world inhabited by robed priests and ghouls...the world you shall see when you put
THE MASK
on...NOW!
Speaking of surreal hells, look at the extended line-up of the new Torture Chamber, with something for everyone!
GARDEN OF WORM                                                       
"Idle Stones"
TAAKE                                                                         
"Stridens Hus"
ROCKET SCIENTISTS                                                    
"Refuel"
PUTRID OFFAL                                                             
 "Mature Necropsy"
DE LA MUERTE                                                             
"De La Muerte"
HATEFUL ABANDON                                                     
"Liars, Bastards"
CRYPT SERMON PREACHES THE WORD!
This week I take a trip to the City of Brotherly Love to speak to a band many consider the true heirs of CANDLEMASS and saviors of epic doom metal: CRYPT SERMON! Don't expect the usual swampy sludge or typical stoner rock when you clap ears on these dudes. They like their doom big, epic and melodic. I hook up with guitarist STEVE JANSSON, who tells of the band's lonely struggle to keep the epic doom sound alive, some of the ideas behind their songs including their views on religion and their insistence that doom should be more than just how low you can tune your guitar. It's quite the interesting talk, which you can experience
HERE
!
An interesting edition of the Torture Chamber awaits, featuring two bands we will soon have interviews with, UFO and RUTHLESS!
RUTHLESS                                                          
"They Rise"
ENSIFERUM                                                        
"One Man Army"
MEGAHERZ                                                         
"Zombieland"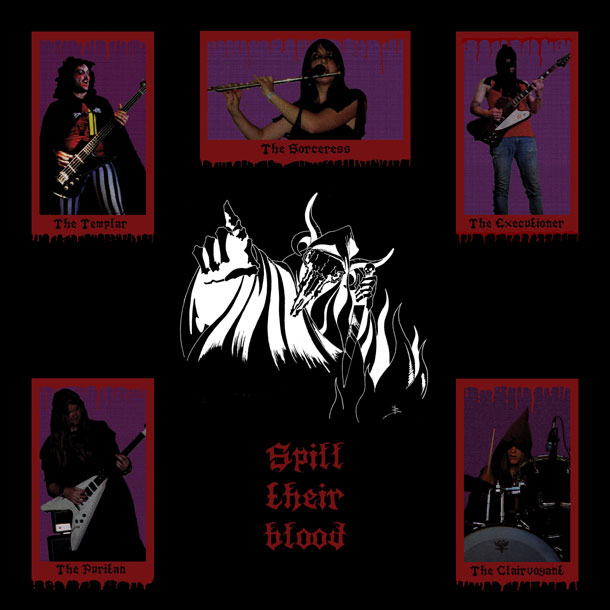 STRANGLED BY THE HANDS OF ORLAC!
We've got a brief but penetrating interview with Italian spooky doom maestros HANDS OF ORLAC this week at Wormwood, conducted by none other than the suavely sinister LORD RANDALL. He speaks to THE TEMPLAR, mysterious guitarist and visionary for the female-fronted unit. Does the music create the horror...or does horror lead the dance? Investigate
HERE
and find out!
A new interview with drummer ANDY PARKER of UFO is on the way and get ready for my article on the 3-D psychotronic movie classic "THE MASK"! More is in the works, so keep a watchful eye upon the catacombs of The Worm....
Death, hate and Armageddon await in this week's Torture Chamber...and you might even meet a French police inspector!
HATE                                                               
"Crusade Zero"
EXPERIENCE THE UNSPEAKABLE VISIONS OF MICHAEL BUKOWSKI!
What manner of man tries to bring the unspeakable to life? Step forward, MICHAEL BUKOWSKI! This super-talented artist has dedicated himself to illustrating every weird creature described in the Cthulhu Mythos of H.P. Lovecraft. Not only those created by Lovecraft himself, but by EVERY author who contributed to the mythos. Bukowski's output is prodigious and also includes pictures of gods and demons from all the world's mythologies. He's also quite the punk and metal fan and has done cover art for a lot of bands. It was a real privilege to get inside the mind of this twisted genius! Explore his macabe world
HERE
!
It's also time for another maxi-sized Torture Chamber with more sonic torment than you can handle!
MELECHESH                                                    
"Enki"
CONVENT GUILT                                              
"Guns For Hire"
CADAVERIA                                                     
 "Silence"
VISIT THE BLACK FOREST WITH GERMANY'S FINSTERFORST!
Worm-scribe MR. THERON MOORE recently ventured through the deep woods of Germany's Black Forest, where he encountered the heathenish metal heroes FINSTERFORST! These fine gentlemen play an epic brand of heavy metal inspired by the beauty of the "Schwarzwald", which is no better heard than on their new album "Macht Dich Frei". Theron spoke to drummer WOMBO about how the Black Forest influences their writing and how the forest can "make you free" (translation of "Macht Dich Frei"). Find your own musical and mental freedom by reading the interview right
HERE
!
After a highly experimental edition of the Torture Chamber, this week we return to brutality! See for yourself!
EXPERIENCE THE MORBID FURY OF BLOODBATH!
No doubt about it, BLOODBATH is one of the most ferocious and grisly death metal bands in existence! And now we've got 'em here at Wormwood! Or at least we've got their new superstar vocalist NICK HOLMES, better known as the frontman of Goth metal legends PARADISE LOST! Nick took some time off from flaying corpses and boiling down the residue to speak to Yours Truly about how he joined the Bloodbath boys, his lifelong love affair with death metal, and even the upcoming Paradise Lost album! You can get all the grand morbid opinions of Mr. Holmes
HERE
!
Upcoming at Wormwood Chronicles...a new interview with long-time drummer ANDY PARKER of UFO, a chat with slammin' SAMMY D from cult California metal icons RUTHLESS, my new article on the bizarre 3-D horror movie classic "The Mask", talks with FINSTERFORST and THULCANDRA, a new Wormwood Files, and much, much more!
Speaking of more, we have a super sized edition of the Torture Chamber this week!
NEGURA BUNGET                                                     
"Tau"
VOICES                                                                   
"London"
DREADLORDS                                                          
"Death Angel"
THE ARMORY                                                           
"Rediscover"
KROKODIL                                                               
"Nachash"
AMERICAN HERITAGE                                                
"Prolapse"
HERE IT IS...WORMWOOD CHRONICLES' LISTS FOR THE BEST OF 2014!!!    
Yahoo, buckaroo! It's that time of year again when all the Wormcrew get to reveal their choices for the best albums of the previous year! We have absolutely no respect for either genre or good taste, so put your Depends on and get ready to sample the best of the best from the worst of the worst! As a little taster, I present the #1 pick from each writer! You'll have to check out the rest of the lists
HERE
!!!
THERON MOORE                                             ABYSMAL DAWN                                         "Obsolescence"
DARK STARR                                                  IAN ANDERSON                                          "Homo Erraticus"
GREAT SUN JESTER                                        BLACKFINGER                                             "Blackfinger"
COLONEL ANGUS                                            EVERGREY                                                   "Hymns For The Broken"
SGT. DETH                                                     SANCTUARY                                                "The Year The Sun Died"
SELENOS LUNOS                                             YOB                                                             "Clearing The Path To Ascend"
DR. ABNER MALITY                                          VALLENFYRE                                               "Splinters"
PROF. JOCKO                                                  SIXX A.M.                                                    "Modern Vintage"
OCTOPI MILLS                                                 ELECTRIC WIZARD                                     "Time To Die"
THOR                                                              ORIGIN                                                       "Omnipresent"
LORD RANDALL                                                LANDSKAP                                                  "I"
And when you're done with that, there's more! We also have our weekly assault on the senses from the Wormwood Torture Chamber!!!
BATTLE BEAST                                                
"Unholy Savior"
THE ELIMINATI                                                
"The First EP"
LEGION OF ANDROMEDA                                   
"Iron Scorn"
BAPTISTS                                                        
"Bloodmines"
HEY, JABRONIS! GET READY TO EAT THE TURNBUCKLE!!!
You jokers think you're hardcore? You ain't got a f@#$in' clue! Let Wormwood introduce you to the new Kings of Extreme, EAT THE TURNBUCKLE! Hailing from...where else?...Philadelphia, this band has combined their love of brutal music with their passion for bloody pro wrestling mayhem like no one else. Forget those lame rockabilly bands with cheap lucha masks...each one of ETT's shows is an explosion of table-smashing, barbed wire bashing, gory action in true hardcore style! All mixed up with gnarly hardcore and thrash! Mr. THERON MOORE puts on his Kurt Angle singlet and goes toe-to-toe with ETT's SHLAK to get the truth on what life is like for the most insanely physical metal band in the universe. See what he had to say
HERE
but don't read if you're a pantywaist!
Something different on the horizon for Wormwood...I grabbed an interview with famed illustrator of the bizarre MICHAEL BUKOWSKI, who is on a quest to draw every single creature described in the Cthulhu Mythos of H. P. Lovecraft! He was a super cool guy to talk to despite his macabre interests! Also upcoming...BLOODBATH, FINSTERFORST, CRYPT SERMON and THULCANDRA! Plus my movie article on 'The Mask" (from 1961, not the 90's crap with Jim Carrey) and oh yeah, the ever-lovin' WORMWOOD TOP 10 OF 2014 lists from all the Wormcrew!
And now let me introduce you to the latest victims of the WC Torture Chamber, all trussed up for your perusal....
KARMA TO BURN                                                     
"Arch Stanton"
FINSTERFORST                                                       
"Macht Dich Frei"
ENJOY A GHOULISH FEAST WITH NECROPHAGIA'S KILLJOY!!
Dwelling in a world of flesh-eating zombies, knife-wielding maniacs and Satanic monstrosities, Mr. KILLJOY DeSADE is surely a tailor-made subject for a Wormwood Chronicles interview. Back when Killjoy started his forward-thinking horror metal band, virtually nobody was doing this sort of macabre music. Now the metal world is full of two-bit gorehounds and hooded pseudo-Satanists. Necrophagia has always been in a different place. If you have the nerve, find out more about that place in my interview
HERE
. See what Killjoy thinks of the current horror and metal scenes!
All sorts of interviews and features on the way. Our good Worm-Brother THERON MOORE will be providing interviews with long-running melodic black metal band THULCANDRA and epic German folk metallers FINSTERFORST in addition to brawling hardcore thrashers EAT THE TURNBUCKLE! We should also get a chat with HANDS OF ORLAC. The Good Doctor is working on an article about the scream-a-delic 1961 3D movie "The Mask" as well as a couple of other things I have yet to reveal! And before long we'll have the annual WORMWOOD TOP 10 OF 2014 lists!
Now for this week's Torture Chamber reviews...a bit heavier and gnarlier than usual!
CRETIN                                                 
"Stranger"
AN INTERVIEW WITH MOETAR + A RETRACTION
Time for Wormwood's resident prog master DARK STARR to step forth once more. This time he's found a very intriguing California band called MOETAR to dissect and explore. He manages to grab an interview with every member of the band, including their silver-voiced frontwoman MOOREA DICKASON. This is a pretty lively discussion that touches on the nature of musical creativity itself as well as the subject of "guilty pleasures" and downloading. Come along for the ride and check it out
HERE
!
A while back, you may have noticed that I printed a "tribute" post to Ed "Earthdog" Bernard, our friend and former writer here. Well, I have found out that reports of Ed's death are premature, although he is still in very bad shape. This is a real embarassment for Wormwood. The information was spread through the net and reached usually reliable webzines like The Obelisk. At that point, I went with what I had. Turns out now that this "report" can be traced back to a source of dubious reliability. I sincerely apologize for this dumb mistake not only to you readers, but to Earthdog himself. The offending post itself has been removed.
On a happier note, I now move to this week's Torture Chamber, which includes a very in-depth look at the new PINK FLOYD from Dark Starr...
ALPHA TIGER                                                                 
"iDentity"
PINK FLOYD                                                                   
"The Endless River"
MORBOSIDAD                                                               
 "Tortura" EP