HOME
Subscribe to posts
CONFRONT THE GRISLY MYSTERY OF BRAZIL'S BURNING MAN!
Once again we head into the jungles of the weird as we introduce the latest edition of the Wormwood Files. The particular story is one of the most disturbing in the history of the paranormal. What horrific force attacked and killed Brazillian farmer JOAO PRESTES FILHO in 1946? A bolt of light from a strange object burned the flesh from his upper body...some say it literally melted him alive! What was the connection to the mysterious "spirit lights" that plagued the rural area where he lived? Was it evil spirits that struck him? Aliens from another world? Or was it some unknown natural force? We try to find the answers and you can help us look
HERE
!
The fireworks continue with the latest edition of the Torture Chamber! Examine these red hot reviews!
DEW SCENTED                                                  
 "Intermination"
BACHMAN                                                        
 "Heavy Blues"
EXPERIENCE THE MEDIEVAL MAYHEM OF OBSEQUIAE!
We get to jump into a kind of musical Wayback Machine this week as I explore the Middle Ages-influenced metal of OBSEQUIAE! Mr. TANNER ANDERSON is the genius behind this unique musical entity, which combines the intensity of extreme heavy metal with the sounds and scales of authentic music from medieval Europe. If you've ever heard Obsequiae, you know how haunting their sound can be. I find out how Tanner came up with this idea and what he actually thinks a medieval person would make of it. He also tells us why he would NOT want to venture back to those times, as well as other secrets behind the new Obsequiae album "Aria of Vernal Tombs". So, good lords and ladies, gird thy loins and prepare to venture forth into these misty days of yore
HERE
!
Once thou are sated with that interrogatory, we have a bountiful banquet of reviews for thee in the Torture Chamber...
DESTRUKTOR                                                               
"Opprobrium"
HIGH ON FIRE                                                              
"Luminiferous"
FULGORA                                                                     
"Stratagem"
KINGCROW                                                                  
"Eidos"
GYRE                                                                           
 "Moirai"
DYSENTERY                                                                  
"Fragments"
WE PAY TRIBUTE TO THE KING OF DARKNESS, CHRISTOPHER LEE!
This is one Wormwood article I wish we didn't have to run. By now, many of you know that the great British actor CHRISTOPHER LEE, who has played many of the most villainous characters in film history, has passed away at the age of 93. Lee was a truly larger than life character who dominated the screen so he is more than deserving of an extensive tribute from us here at Wormwood. I take a look at his early years, his amazing military career, his time with Hammer Studios and his great friend PETER CUSHING, and the incredible flowering of his legacy at the end of his life, including his dabbling in heavy metal! Then the GREAT SUN JESTER adds his own thoughts on Lee's passing. It's one of the most extensive articles we've ever done at Wormwood. You can join the tribute
HERE
!
More Torture Chamber hijinks are in store for the unwary, so prepare youself!
WEEDEATER                                                      
  "Goliathan"
DEMON LUNG                                                     
"A Dracula"
CAUSTIC METHOD                                              
 "The Virus"
EXOVEX                                                            
  "Radio Silence"
A CHAT WITH GERMANY'S METAL KINGS, HELLOWEEN!
I'm very happy to present my interview with one of Europe's most successful metal bands, Germany's high-flying HELLOWEEN! These guys have been a major force for 30 years now. I'm honored to head into the "Pumpkin Patch" to talk to guitarist MICHAEL WEIKATH, who has been with the band every step of the way. We have an honest and far ranging conversation about many aspects of the band, including being the only band to play in Borneo, Helloween's dedication to positive lyrics, strange astronomical phenomena and the meaning behind the title of their new record "My God-Given Right". It's not often that Wormwood speaks to metal royalty like this...treat yourself to a slice of "Pumpkin Pie" right
HERE!
Several big ideas are percolating in the background for future Wormwood features, but I'm not prepared to divulge them just yet. I can tell you for sure that our big tribute to the late CHRISTOPHER LEE should be up next week, followed by interviews with ARMORED SAINT and OBSEQUIAE as well as a new Wormwood Files about the Burning Man of Brazil! So stay tuned, humanoids!
To keep you happy until then, I present the latest edition of the Torture Chamber, sure to dazzle and disgust in equal measure!
ENTRAILS                                                               
"Obliteration"
FOSSILS                                                                 
 "The Meating"
HELLBASTARD                                                         
"Feral"
THE SYN                                                                  "Live Rosfest"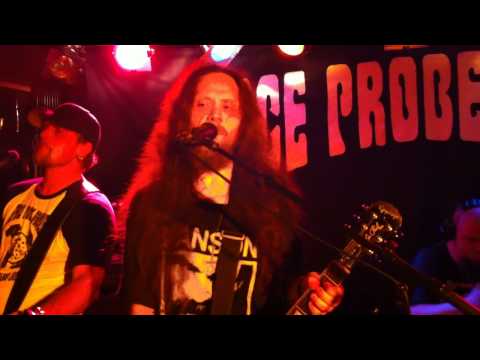 REACH ESCAPE VELOCITY WITH SPACE PROBE TAURUS!
Our journey this week takes us right out of Earth's atmosphere and into the depths of interstellar space. Worm-scribe THERON MOORE puts on his space suit and hops aboard SPACE PROBE TAURUS, the stoner rock rocket hailing from Sweden. He speaks to mission commander OLA SJOBERG about the band's debt to Blue Cheer and Monster Magnet as well as its source of inspiration in sci-fi books and movies. If you're ready to take the plunge into a universe of heavy rock, climb aboard
HERE
and begin your journey.
We don't rest on our laurels here at Wormwood. Here's an extra big helping of Torture Chamber review for you...
LUCIFER                                                            
  "Lucifer 1"
CROM DUBH                                                         
"Heimweh"
TELERGY                                                              
 "Hypatia"
BITE OFF A CHUNK OF GRUESOME! PLUS LIVE SEPULTURA REVIEW
This week I parachuted into the SAVAGE LAND where flesh-eating humanoids dwell to grab a chat with the band GRUESOME. These fiends are aptly named, given their devotion to carnage and gore. They are a heart-felt tribute to the early albums of the immortal DEATH and helping to keep that style alive for new generations! I spoke to a very chatty and friendly drummer GUS RIOS about this sadistic bunch. We had a fun talk that was a nostalgic romp through the early days of the death metal scene, covering subjects likely how closely Gruesome adhered to the laws of Death, the inevitable association with cover artist Ed Repka and what it's like to be an analog band in a digital world! Get ready to chew the fat (and skin and muscle) with Gus right
HERE
!
We also have a short and sweet live concert review of the mighty SEPULTURA on their 30th Anniversary tour with Germany's DESTRUCTION, tech-metallers ARSIS and more. The esteemed SGT. DETH does the honors, which you can observe
HERE
!
And then there's the ever-lovin' Torture Chamber, which features big new reviews of ARMORED SAINT, ANTIGAMA and more...
ANTIGAMA                                                                   
"The Insolent"
ARMORED SAINT                                                         
  "Win Hands Down"
GOATSNAKE                                                                 
"Black Age Blues"
TURBOWOLF                                                                 
"Two Hands"
CONTINUUM                                                                 
  "The Hypothesis"
EXPERIENCE THE FURY OF NYDM SPRING BASH 2015!
It's that time of the year when I do my rundown of the best metal festival in the American Midwest, NYDM SPRING BASH 2015! This year's edition was the fifth and also the best, featuring performances by the likes of WHIPLASH, DECEASED, ARTILLERY, NOVEMBER'S DOOM, VIKING and many, many more! I've got the rundown on all three packed days of the event, held at The Metal Grill in Cudahy, WI...the good, the bad and the unholy! This is a textbook example of how to run a grassroots fest so look
HERE
and get all the details!
An extra large dose of the Torture Chamber this week, with some pretty wild entries!
RAVEN                                                                                
"ExtermiNation"
DEATHHAMMER                                                                    
"Evil Power"
HARD ACTION                                                                      
 "Sinister Vibes"
GEORGE KOLLIAS                                                                 
"Invictus"
BLAST UNICORN                                                                   
"Van Halo"
ABSTRACTER                                                                        
"Wound Empire"
SAMMAL                                                                               
 "Myrskyvaroitus"
BOW DOWN AS YOU ENTER ODIN'S COURT!
On your feet or on your knees, humanoids, as DARK STARR travels to Asgard to interview prog metal killers ODIN'S COURT! He was granted an audience with band mastermind MATT BROOKINS, who had plenty to say. Are they prog, are they metal, are they melodic hard rock? Or all of the above? Matt tells it like it is and also speaks candidly about illegal downloading, the band's many influences and what his ideal music festival would be! Lift up thy head and hear his words
HERE
!
Now you can add the name of ARMORED SAINT to the list of upcoming interviews at Wormwood Chronicles! I snatched an interview with bass god JOEY VERA! Also coming up are HELLOWEEN, GRUESOME, OBSEQUIAE, SPACE PROBE TAURUS and more! If everything goes well, we should be adding a couple more major names to the list. Plus, I'm working on something different that has nothing to do with music, but should please all fans of the paranormal and bizarre! More details to come....NYDM Spring Bash report next week!
This week we would like to welcome a new voice to the chorus of Wormwood...RENATO BRUJO joins the Wormcrew. Check out his review of SECRETS OF THE SKY below!
SECRETS OF THE SKY                                                    
  "Pathway"
ENFORCER                                                                     
"From Beyond"
SIGH                                                                              
"Graveward"
HEIDEVOLK                                                                     
"Velua"
TONS OF COOL STUFF! FROSTHELM INTERVIEW, MICHAEL SCHENKER LIVE REVIEW, "AREA 51" MOVIE REVIEW!
We've been burning the midnight oil at Wormwood Laboratories this week and the result is a motherlode of intriguing content for you Worm-fans out there! First off, I head into the frozen tundra of North Dakota to interview the state's brightest metal prospects, FROSTHELM! Bassist JIMMY CHERRY tells us about the rise of this furious band and the good and bad of being in such a remote scene. That chat you can find right
HERE
! Then, the esteemed COLONEL ANGUS gives us a live concert review of MICHAEL SCHENKER'S recent appearance in Chicago. This review includes a lot of cool photos, which you can check out
HER
E. Finally, rounding out this whirlwind week, we have THERON MOORE'S review of the recent "found footage" science fiction film AREA 51. Is it worth your time? Get the answer
HERE
!
Coming soon to Wormwood, I can confirm an exclusive interview with the European metal superstars HELLOWEEN! This is the biggest chat we've had in a while. Also coming soon are interviews with GRUESOME, ODIN'S COURT and SPACE PROBE TAURUS, plus some others I hope to announce soon! Also, look for live reviews of NYDM SPRING BASH 2015 and a recent SEPULTURA/DESTRUCTION show!
Now for this week's Torture Chamber entires...and there are some real intriguing ones this time around, including the return of OCTOPI MILLS!
KING PARROT                                                                
"Dead Set"
DAVID SHANKLE GROUP                                                
"Still A Warrior"
KAMELOT                                                                      
"Haven"
CAN YOU SURVIVE BEING MUTILATED BY ZOMBIES?
In the placid Midwest town of Dubuque, Iowa, the dead are restless...and hungry! Three ghouls have risen from their tombs and are searching for human flesh! And at the same time, they are bringing the horror of true death metal to their human prey. They are MUTILATED BY ZOMBIES and our boy THERON MOORE managed to survive long enough to get an interview with them. What's it like playing gruesome gory metal in this unusual locale? What are the dudes up to when they aren't ripping humans apart? And what are their plans for the rest of helpless humanity? Why don't you click
HERE
and find out....before it's too late!
I'm in talks to interview one of the biggest European metal bands there is! By this time next week, I'll let you know just who they are. And I'm also thinking about adding lacy underthings to my usual leather vest and jeans as I prepare to write a report on the outrageous 70's biker flick "THE PINK ANGELS". So that's how we swing here at Wormwood!
Speaking of swinging, let's go out on a limb and drop the noose on the latest Torture Chamber reviews...
SATAN'S WRATH                                                      
"Die Evil"
CAVE OF SWIMMERS                                                
 "Reflection"
KORPIKLAANI                                                           
"Noita"