HOME
Subscribe to posts
SET COURSE FOR THE GREAT ABYSS WITH AHAB!
Many are the mysteries of the deep. This week, we explore some of them with the help of Wormwood's LORD RANDALL, as he speaks to the masters of aquatic doom metal, the mighty AHAB! These German seamen have made a career out of slow-motion epics concerned with the enigmatic ocean so it was past time for us to check in with them. Randall speaks to guitarist/growler DANIEL DROSTE, who fills us in on the spooky inspiration for their new album "The Boats of the Glen Carrig" and their fascination with the briny deep. Pull yourself up a stool, mate, and read more of their story
HERE
!
Yet more misery is on the way here at Wormwood! Randall has also grabbed an interview with none other than the British gloom merchants MY DYING BRIDE! And Theron Moore has snagged a chat with Minnesota grind terrorists AMBASSADOR GUN! I'm working on something rather special myself so keep checking in with us. Another way to keep in touch with the weird world of Wormwood is by liking our Facebook Page!
Enough of my yakkin'! Let's boogie...with new Torture Chamber reviews!
TAU CROSS                                                                        
"Tau Cross"
SCANNER (US)                                                                    
"Splat"
MOONDARK                                                                        
 "The Shadowpath"
CHEWED UP AND SPIT OUT BY KAM LEE!
This week the Good Doctor's tender ears get roasted by the fiery rhetoric of death metal legend KAM LEE! Best known as the frontman for the seminal MASSACRE, Mr. Lee is now growling and grumbling for BONE GNAWER and THE GROTESQUERY, amongst others. You won't have any trouble figuring out where Kam is coming from...he holds nothing back in talking about the truth behind the "glory days" of Florida death metal, the current state of Massacre and confusion regarding his current bands. Get ready for a tongue lashing! We also talk about his lifelong fascination with horror and interest in music outside of metal. Steel yourself and jump in the inferno
HERE
!
LOTS of news to report about future Wormwood projects this week. Look soon for LORD RANDALL's sub-aquatic chat with Germany's masters of nautical funeral doom, AHAB! We've also got a double shot coming from THERON MOORE...a talk with cult Milwaukee death maniacs DR. SHRINKER and for something really different, a discussion with renowned UFOLogist DR. BRUCE MACCABBEE! As if that ain't enough, I went all the way to Mongolia to interrogate Mongolia's #1 metal band, TENGGER CAVALRY! Plus an old Wormwood friend will be breaking his retirement to give us a detailed lowdown on the greatest heavy music festival in the world, WACKEN! Also coming...DARK STARR's interview with dark prog masters EXOVEX, a new Philm Phreaks article on "The Pink Angels" and some more intense stuff that I can't divulge as of yet...but soon!
Torture Chamber time now...shrieks of pain and delight ring out amidst our eclectic reviews of the following...
SPILLAGE                                                        
"Spillage"
KHEMMIS                                                        
"Absolution"
VARIOUS ARTISTS                                          
 "Mongol Metal"
ENTER THE TEMPLE OF LUCHA UNDERGROUND!
This week we take a little bit of a detour to Boyle Heights, California, where we enter what looks like a run down old factory building...only to find the Temple of LUCHA UNDERGROUND! If you haven't already heard, Lucha Underground is the exciting new concept in professional wrestling that mixes the colorful world of Mexican lucha libre with the violence of ECW and the storytelling of an edgy superhero comic. It's unlike anything seen before in the wrestling business and it's causing a a lot of uproar. I take an in-depth look at the LU world, including characters like the indestructible MIL MUERTES, the scaly hero DRAGO and shady promoter DARIO CUETO. It's a world you can take a further voyage into
HERE
!
An economy size dose of Torture Chamber reviews will provide a fiery feast to tide you over until next week!
VALKYRIE                                          
"Shadows"
A WINNING HAND FROM ARMORED SAINT!
This week we've got a royal flush dealt by Wormwood: an interview with JOEY VERA from ARMORED SAINT! The Saint has been one of the most respected American heavy metal bands for thirty years so this is a big deal for us...and you! I have a good long chat with Joey about the recording procedure for the great new Saint album "Win Hands Down", road stories from their tour with SAXON, a classic Spinal Tap moment and even some news about Joey's other bands, FATES WARNING & MOTOR SISTER! I sure enjoyed talking to this heavy metal renaissance man and I think you will enjoy reading
the interview
!
Some news to report. THERON MOORE tells me he will soon be providing an interview with cult Milwaukee death metal maniacs DR. SHRINKER! We may also have a huge concert report from a Wormwood founding father who hasn't been around in a while as well as some more cool stuff! Stay tuned, Worm-fiends!
Don't want to keep you in suspense any more...here are this week's Torture Chamber reviews!
MY SLEEPING KARMA                                                    
"Moksha"
SYMPHONY X                                                              
 "Underworld"
CONNOISSEUR                                                            
 "Stoner Justice"
EXCIMER                                                                    
"Thrash From Fire"
CONFRONT THE GRISLY MYSTERY OF BRAZIL'S BURNING MAN!
Once again we head into the jungles of the weird as we introduce the latest edition of the Wormwood Files. The particular story is one of the most disturbing in the history of the paranormal. What horrific force attacked and killed Brazillian farmer JOAO PRESTES FILHO in 1946? A bolt of light from a strange object burned the flesh from his upper body...some say it literally melted him alive! What was the connection to the mysterious "spirit lights" that plagued the rural area where he lived? Was it evil spirits that struck him? Aliens from another world? Or was it some unknown natural force? We try to find the answers and you can help us look
HERE
!
The fireworks continue with the latest edition of the Torture Chamber! Examine these red hot reviews!
DEW SCENTED                                                  
 "Intermination"
BACHMAN                                                        
 "Heavy Blues"
EXPERIENCE THE MEDIEVAL MAYHEM OF OBSEQUIAE!
We get to jump into a kind of musical Wayback Machine this week as I explore the Middle Ages-influenced metal of OBSEQUIAE! Mr. TANNER ANDERSON is the genius behind this unique musical entity, which combines the intensity of extreme heavy metal with the sounds and scales of authentic music from medieval Europe. If you've ever heard Obsequiae, you know how haunting their sound can be. I find out how Tanner came up with this idea and what he actually thinks a medieval person would make of it. He also tells us why he would NOT want to venture back to those times, as well as other secrets behind the new Obsequiae album "Aria of Vernal Tombs". So, good lords and ladies, gird thy loins and prepare to venture forth into these misty days of yore
HERE
!
Once thou are sated with that interrogatory, we have a bountiful banquet of reviews for thee in the Torture Chamber...
DESTRUKTOR                                                               
"Opprobrium"
HIGH ON FIRE                                                              
"Luminiferous"
FULGORA                                                                     
"Stratagem"
KINGCROW                                                                  
"Eidos"
GYRE                                                                           
 "Moirai"
DYSENTERY                                                                  
"Fragments"
WE PAY TRIBUTE TO THE KING OF DARKNESS, CHRISTOPHER LEE!
This is one Wormwood article I wish we didn't have to run. By now, many of you know that the great British actor CHRISTOPHER LEE, who has played many of the most villainous characters in film history, has passed away at the age of 93. Lee was a truly larger than life character who dominated the screen so he is more than deserving of an extensive tribute from us here at Wormwood. I take a look at his early years, his amazing military career, his time with Hammer Studios and his great friend PETER CUSHING, and the incredible flowering of his legacy at the end of his life, including his dabbling in heavy metal! Then the GREAT SUN JESTER adds his own thoughts on Lee's passing. It's one of the most extensive articles we've ever done at Wormwood. You can join the tribute
HERE
!
More Torture Chamber hijinks are in store for the unwary, so prepare youself!
WEEDEATER                                                      
  "Goliathan"
DEMON LUNG                                                     
"A Dracula"
CAUSTIC METHOD                                              
 "The Virus"
EXOVEX                                                            
  "Radio Silence"
A CHAT WITH GERMANY'S METAL KINGS, HELLOWEEN!
I'm very happy to present my interview with one of Europe's most successful metal bands, Germany's high-flying HELLOWEEN! These guys have been a major force for 30 years now. I'm honored to head into the "Pumpkin Patch" to talk to guitarist MICHAEL WEIKATH, who has been with the band every step of the way. We have an honest and far ranging conversation about many aspects of the band, including being the only band to play in Borneo, Helloween's dedication to positive lyrics, strange astronomical phenomena and the meaning behind the title of their new record "My God-Given Right". It's not often that Wormwood speaks to metal royalty like this...treat yourself to a slice of "Pumpkin Pie" right
HERE!
Several big ideas are percolating in the background for future Wormwood features, but I'm not prepared to divulge them just yet. I can tell you for sure that our big tribute to the late CHRISTOPHER LEE should be up next week, followed by interviews with ARMORED SAINT and OBSEQUIAE as well as a new Wormwood Files about the Burning Man of Brazil! So stay tuned, humanoids!
To keep you happy until then, I present the latest edition of the Torture Chamber, sure to dazzle and disgust in equal measure!
ENTRAILS                                                               
"Obliteration"
FOSSILS                                                                 
 "The Meating"
HELLBASTARD                                                         
"Feral"
THE SYN                                                                  "Live Rosfest"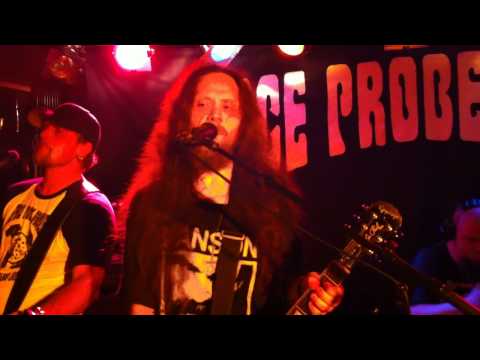 REACH ESCAPE VELOCITY WITH SPACE PROBE TAURUS!
Our journey this week takes us right out of Earth's atmosphere and into the depths of interstellar space. Worm-scribe THERON MOORE puts on his space suit and hops aboard SPACE PROBE TAURUS, the stoner rock rocket hailing from Sweden. He speaks to mission commander OLA SJOBERG about the band's debt to Blue Cheer and Monster Magnet as well as its source of inspiration in sci-fi books and movies. If you're ready to take the plunge into a universe of heavy rock, climb aboard
HERE
and begin your journey.
We don't rest on our laurels here at Wormwood. Here's an extra big helping of Torture Chamber review for you...
LUCIFER                                                            
  "Lucifer 1"
CROM DUBH                                                         
"Heimweh"
TELERGY                                                              
 "Hypatia"
BITE OFF A CHUNK OF GRUESOME! PLUS LIVE SEPULTURA REVIEW
This week I parachuted into the SAVAGE LAND where flesh-eating humanoids dwell to grab a chat with the band GRUESOME. These fiends are aptly named, given their devotion to carnage and gore. They are a heart-felt tribute to the early albums of the immortal DEATH and helping to keep that style alive for new generations! I spoke to a very chatty and friendly drummer GUS RIOS about this sadistic bunch. We had a fun talk that was a nostalgic romp through the early days of the death metal scene, covering subjects likely how closely Gruesome adhered to the laws of Death, the inevitable association with cover artist Ed Repka and what it's like to be an analog band in a digital world! Get ready to chew the fat (and skin and muscle) with Gus right
HERE
!
We also have a short and sweet live concert review of the mighty SEPULTURA on their 30th Anniversary tour with Germany's DESTRUCTION, tech-metallers ARSIS and more. The esteemed SGT. DETH does the honors, which you can observe
HERE
!
And then there's the ever-lovin' Torture Chamber, which features big new reviews of ARMORED SAINT, ANTIGAMA and more...
ANTIGAMA                                                                   
"The Insolent"
ARMORED SAINT                                                         
  "Win Hands Down"
GOATSNAKE                                                                 
"Black Age Blues"
TURBOWOLF                                                                 
"Two Hands"
CONTINUUM                                                                 
  "The Hypothesis"