HOME
Subscribe to posts
PREPARE YOURSELF FOR A RUTHLESS INTERVIEW!
L.A.'s RUTHLESS have been forging the metal for over 30 years now and there's no end in sight for them. In fact, this band that came up with Metallica, Dark Angel and Armored Saint is ramping things up for the 21st century! I got together with long-time singer SAMMY D to hear some tales of the glory days of California metal and got an earful! This is a real cool chat where we cover a ton of subjects, including politics, the amazing West Coast metal boom of the 80's and how Ruthless is staying relevant in a new age. I think you old school headbangers will get a real kick out of this one, so dive into the interview
HERE
and get ready to bang!
Things kind of in flux at Wormwood right now....changes may be on the way. Trying to nail down some really diverse and interesting features from you. As things become more solid, I'll let you know just what I'm talking about.
The Torture Chamber is eagerly waiting to embrace your tender flesh with these ripping reviews!
LORD DYING                                                                  
"Poisoned Altars"
UFOMAMMUT                                                                 
  "Ecate"
iLLacrimo                                                                      
 "iLLacrimo"
CHERUBS                                                                       
"2 Ynfynyty"
KEEP OF KALESSIN                                                         
"Epistemology"
LANCER                                                                          "Second Storm"
EXPERIENCE THE "TAU" OF ROMANIA WITH NEGURA BUNGET!
It's a huge pleasure for me to present my interview with Romania's #1 rock band, the great NEGURA BUNGET! If you want a musical taste of the deep valleys and dark mountains of Transylvania, all you need to do is hear the ambitious new album "TAU", a sonic exploration of the spirit of that mystical land. Negura Bunget is one of the most adventurous bands out there, combining traditional folk, ambient soundscapes and raging black metal into a unique progressive stew! I  spoke to NEGRU, the long-time musical shaman of the band about their connection to their homeland and how they transfer that to music. This is an interview you don't want to miss...check it out
HERE
!
My annual trip to the NYDM SPRING BASH in Milwaukee is nigh, so expect to see a major feature on it here, including live reviews of bands like DECEASED, ARTILLERY, BONGZILLA and WHIPLASH!
Look for this week's Torture Chamber and you may just find THE ANSWER you are looking for!!!
MARDUK                                                     
"Front Schwein"
PSYCROPTIC                                               
 "Psycroptic"
CDC                                                            
"End" EP
FEEL THE FORCE OF THULCANDRA!
Worm-scribe THERON MOORE returns to duty this week to grab an interview with the majestic Swedish black metal warriors THULCANDRA! These guys play a fast, freezing but highly melodic version of black metal that is highly reminiscent of the sadly missed DISSECTION! Theron talks to guitarist STEFFEN KUMMERER about Thulcandra paying their debt to Dissection, their view on religion and the killer new album "Ascension Lost". Venture into this world of Northern Darkness
HERE
!
Should have some major announcements on the way shortly! I can confirm my next Wormwood Files will be devoted to the "Great Amherst Haunting", the most notorious supernatural event in Canadian history!
Very cool and diverse Torture Chamber is in store for you this week!!!
LIGHTNING BOLT                                                 
 "Fantasy Empire"
ENSLAVED                                                           
"In Times"
NERVECELL                                                          
"Psychogenocide"
PUT THE MASK ON...NOW!
It's been a while since we've delved into the world of freaky film. Well, this time I've selected one of the weirdest ever to focus on. This would be the first true Canadian horror film, the surreal 1961 shockfest "THE MASK", filmed and released in 3-D! No, this isn't the Jim Carrey multiplex abomination, but something altogether more disturbing and innovative. Join me as we descend into the misty hell of an undead world inhabited by robed priests and ghouls...the world you shall see when you put
THE MASK
on...NOW!
Speaking of surreal hells, look at the extended line-up of the new Torture Chamber, with something for everyone!
GARDEN OF WORM                                                       
"Idle Stones"
TAAKE                                                                         
"Stridens Hus"
ROCKET SCIENTISTS                                                    
"Refuel"
PUTRID OFFAL                                                             
 "Mature Necropsy"
DE LA MUERTE                                                             
"De La Muerte"
HATEFUL ABANDON                                                     
"Liars, Bastards"
CRYPT SERMON PREACHES THE WORD!
This week I take a trip to the City of Brotherly Love to speak to a band many consider the true heirs of CANDLEMASS and saviors of epic doom metal: CRYPT SERMON! Don't expect the usual swampy sludge or typical stoner rock when you clap ears on these dudes. They like their doom big, epic and melodic. I hook up with guitarist STEVE JANSSON, who tells of the band's lonely struggle to keep the epic doom sound alive, some of the ideas behind their songs including their views on religion and their insistence that doom should be more than just how low you can tune your guitar. It's quite the interesting talk, which you can experience
HERE
!
An interesting edition of the Torture Chamber awaits, featuring two bands we will soon have interviews with, UFO and RUTHLESS!
RUTHLESS                                                          
"They Rise"
ENSIFERUM                                                        
"One Man Army"
MEGAHERZ                                                         
"Zombieland"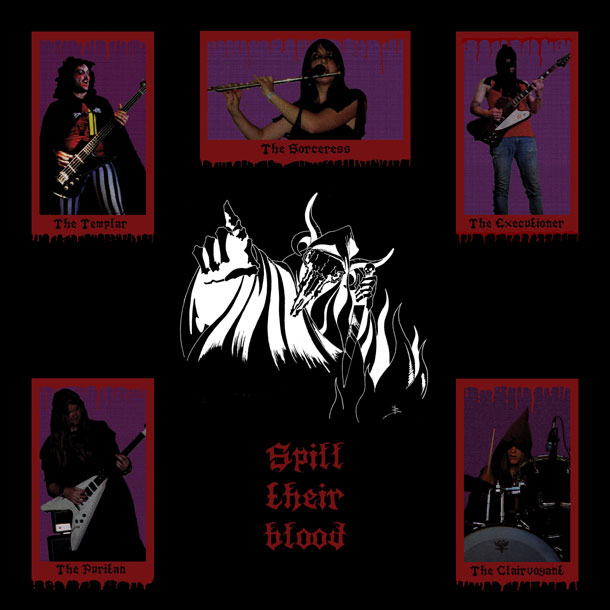 STRANGLED BY THE HANDS OF ORLAC!
We've got a brief but penetrating interview with Italian spooky doom maestros HANDS OF ORLAC this week at Wormwood, conducted by none other than the suavely sinister LORD RANDALL. He speaks to THE TEMPLAR, mysterious guitarist and visionary for the female-fronted unit. Does the music create the horror...or does horror lead the dance? Investigate
HERE
and find out!
A new interview with drummer ANDY PARKER of UFO is on the way and get ready for my article on the 3-D psychotronic movie classic "THE MASK"! More is in the works, so keep a watchful eye upon the catacombs of The Worm....
Death, hate and Armageddon await in this week's Torture Chamber...and you might even meet a French police inspector!
HATE                                                               
"Crusade Zero"
EXPERIENCE THE UNSPEAKABLE VISIONS OF MICHAEL BUKOWSKI!
What manner of man tries to bring the unspeakable to life? Step forward, MICHAEL BUKOWSKI! This super-talented artist has dedicated himself to illustrating every weird creature described in the Cthulhu Mythos of H.P. Lovecraft. Not only those created by Lovecraft himself, but by EVERY author who contributed to the mythos. Bukowski's output is prodigious and also includes pictures of gods and demons from all the world's mythologies. He's also quite the punk and metal fan and has done cover art for a lot of bands. It was a real privilege to get inside the mind of this twisted genius! Explore his macabe world
HERE
!
It's also time for another maxi-sized Torture Chamber with more sonic torment than you can handle!
MELECHESH                                                    
"Enki"
CONVENT GUILT                                              
"Guns For Hire"
CADAVERIA                                                     
 "Silence"
VISIT THE BLACK FOREST WITH GERMANY'S FINSTERFORST!
Worm-scribe MR. THERON MOORE recently ventured through the deep woods of Germany's Black Forest, where he encountered the heathenish metal heroes FINSTERFORST! These fine gentlemen play an epic brand of heavy metal inspired by the beauty of the "Schwarzwald", which is no better heard than on their new album "Macht Dich Frei". Theron spoke to drummer WOMBO about how the Black Forest influences their writing and how the forest can "make you free" (translation of "Macht Dich Frei"). Find your own musical and mental freedom by reading the interview right
HERE
!
After a highly experimental edition of the Torture Chamber, this week we return to brutality! See for yourself!
EXPERIENCE THE MORBID FURY OF BLOODBATH!
No doubt about it, BLOODBATH is one of the most ferocious and grisly death metal bands in existence! And now we've got 'em here at Wormwood! Or at least we've got their new superstar vocalist NICK HOLMES, better known as the frontman of Goth metal legends PARADISE LOST! Nick took some time off from flaying corpses and boiling down the residue to speak to Yours Truly about how he joined the Bloodbath boys, his lifelong love affair with death metal, and even the upcoming Paradise Lost album! You can get all the grand morbid opinions of Mr. Holmes
HERE
!
Upcoming at Wormwood Chronicles...a new interview with long-time drummer ANDY PARKER of UFO, a chat with slammin' SAMMY D from cult California metal icons RUTHLESS, my new article on the bizarre 3-D horror movie classic "The Mask", talks with FINSTERFORST and THULCANDRA, a new Wormwood Files, and much, much more!
Speaking of more, we have a super sized edition of the Torture Chamber this week!
NEGURA BUNGET                                                     
"Tau"
VOICES                                                                   
"London"
DREADLORDS                                                          
"Death Angel"
THE ARMORY                                                           
"Rediscover"
KROKODIL                                                               
"Nachash"
AMERICAN HERITAGE                                                
"Prolapse"
HERE IT IS...WORMWOOD CHRONICLES' LISTS FOR THE BEST OF 2014!!!    
Yahoo, buckaroo! It's that time of year again when all the Wormcrew get to reveal their choices for the best albums of the previous year! We have absolutely no respect for either genre or good taste, so put your Depends on and get ready to sample the best of the best from the worst of the worst! As a little taster, I present the #1 pick from each writer! You'll have to check out the rest of the lists
HERE
!!!
THERON MOORE                                             ABYSMAL DAWN                                         "Obsolescence"
DARK STARR                                                  IAN ANDERSON                                          "Homo Erraticus"
GREAT SUN JESTER                                        BLACKFINGER                                             "Blackfinger"
COLONEL ANGUS                                            EVERGREY                                                   "Hymns For The Broken"
SGT. DETH                                                     SANCTUARY                                                "The Year The Sun Died"
SELENOS LUNOS                                             YOB                                                             "Clearing The Path To Ascend"
DR. ABNER MALITY                                          VALLENFYRE                                               "Splinters"
PROF. JOCKO                                                  SIXX A.M.                                                    "Modern Vintage"
OCTOPI MILLS                                                 ELECTRIC WIZARD                                     "Time To Die"
THOR                                                              ORIGIN                                                       "Omnipresent"
LORD RANDALL                                                LANDSKAP                                                  "I"
And when you're done with that, there's more! We also have our weekly assault on the senses from the Wormwood Torture Chamber!!!
BATTLE BEAST                                                
"Unholy Savior"
THE ELIMINATI                                                
"The First EP"
LEGION OF ANDROMEDA                                   
"Iron Scorn"
BAPTISTS                                                        
"Bloodmines"