INDY SPOTLIGHT: NWA HOLLYWOOD
By Dr. Abner Mality
No, wrestling fans, your eyes are not deceiving you. There is a new pro wrestling article up at Wormwood Chronicles after an absence of more than two years. My interest in the mat game has waned steadily in the last few years as the kind of gritty grunt-and-groan I grew up on becomes extinct in the era dominated by the soulless World Wresting Entertainment and the soap opera talk fest that is TNA Wrestling. I've tried several times to garner interviews with grapplers both modern and legendary, but it's no go. Wrestlers jealously guard their privacy and with good reason.
So what to do? Well, we also live in the age of Youtube and that means that many local independent promotions no longer need a television slot to be seen. They put their programs quickly and inexpensively on the Tube and reach audiences not only across the country but the entire world.
The indy wrestling promotion is the true heart and soul of the business. It's where the fans really connect with the wrestlers and where the emphasis, by necessity, is on good wrestling and strong characters. In most cases, the soap opera/sitcom/cartoon tendencies of WWE and TNA are ignored or pushed into the background. Upstart promotion Ring of Honor does have the feeling of an excellent indy but the sad fact is that they are going to lose their TV on the HDNET Channel soon and no replacement outlet has surfaced.
"Over The Top Rope" will now become an intermitment in-depth look at various indy promotions that I encounter on the web. Most of these indys operate on razor-thin margins and can fold in the blink of an eye. So let me do my part to raise awareness of these local wrestling outlets and help to keep what many consider a dying art form alive.
This edition is going to focus on perhaps my favorite of all the current indy promotions, NWA Hollywood. This weekly hour long show makes me feel warm and cuddly with its old-school format that harks back to the glory years of local studio wrestling. It is proud to be a PRO WRESTLING product and not "sports entertainment" or any hideously "hip" version thereof. It's a member of the oldest promotional organization of the sport, the NWA, and tries very hard to remember the history it's a part of. Hell, the opening theme music has a shot of Lou Thesz's Hollywood Walk of Fame star, as well as images of Harley Race, Andre the Giant, Ric Flair and Dusty Rhodes. It can't be argued that the NWA has fallen a long way in the last 2 decades, but this program tries as hard as it can to live up to the entertaining standards of the "grand-daddy of them all" and in my opinion, it mostly succeeds.
Let's take a look at the pluses and minuses of NWA Hollywood (and there are more of the former than the latter):
1. GREAT CAST OF HEELS
The promotion seems to be tilted more towards emphasizing the heels than the faces and because the heels here are so strong, that's a big plus. No wrestling promotion can succeed if the heels are seen as weak or lacking charisma. Right now in NWA Hollywood, the heels hold the upper hand, with the babyfaces nipping at them in hot pursuit.
Some of you out there may remember a certain heel faction known as "The Four Horsemen", am I right? Good, you know your wrestling history. NWA Hollywood has its own version of The Four Horsemen known as "The Standard". These are the guys you love to hate but they are also the straw that stirs the drink. This is a great heel group and I rate them at least as good, if not better, as other current factions such as The Nexus (faceless nobodies with a charismatic leader) and Immortal (NWO 15 years after the fact).
The leader of the Standard is the current NWA World Heavyweight Champion "Scrap Iron" Adam Pearce...an overbearing, obnoxious prick who uses every dirty trick imaginable to retain the almighty "ten pounds of gold". Pearce is absolutely fantastic in the role and is reminiscent of the early Ric Flair, when the Nature Boy traveled from NWA territory to NWA territory, putting his belt on the line against local favorites and cheating like hell to keep it. I saw Pearce many years ago as a baby face with long hair and a clean shaven face (as opposed to the bald, goateed look he has now) and he was announced as being from my hometown of Rockford, Illinois then. Don't know if there's any truth to that, but he is definitely a Midwest product. "Scrap Iron" is not particularly flashy in the ring, but he knows the art of heeling (which is more than insulting the crowd for ten minutes on the mike) and makes a great target for the likes of Colt Cabana, Willie Mack and the other NWA Hollywood faces to aim at.
Pearce's right hand man in The Standard is Austin Aries, who is absolutely one of the best wrestlers in the US right now. He's a two-time former ROH World Champion and also had a forgettable TNA run as "Austin Starr". Aries is a spectacular aerial artist in terrific physical condition who exudes as much natural arrogance as Pearce. He modestly bills himself as "The Greatest Man Who Ever Lived". To quote Gorilla Monsoon...PLEASE! But wow, he is fun to watch even if you do want to see him get whipped. Right now he's in a fiercely fought "Best of 5" series with the popular and agile Scorpio Sky.
The remaining two members of The Standard aren't quite up there with Pearce and Aries, but they fill their role well. "Rock Superstar" Joey Kaos is the leather-clad wildman of the group, a veteran who looks like he's jacked up on angel dust most of the time. The odd man out of The Standard is "Pretty" Peter Avalon, who is anything but. This surly youth lacks size and strength but still has a lot of skill. He looks like a mop-topped Napoleon Dynamite gone psycho and seems to channel every arrogant high school nerd. Due to his smallness, he doesn't seem to be a great threat, but his heel factor is high...you just can't wait to see him get slapped. These four guys are a strong combination and pretty much the whole promotion revolves around what they do, much as the old NWA centered on The Four Horsemen each week.
There are some other entertaining heels in NWA Hollywood, like the tag team champs Natural Selection (more about them in a minute), "Mr. Megastar" Tommy Wilson, Rico Dynamite, Ray Rosas, the sinister Cedric The Hitman and the huge "Big Nasty" Jason Watts. Even the second-tier guys have well defined personalities and good basic skills in the ring. And that makes for a fun promotion.
2. A GREAT TAG TEAM DIVISION
Tag team wrestling is obviously not as popular as it once was, mostly because the "wrestling"....oops, sports entertainment!...standard-bearer WWE has de-emphasized it almost to the point of oblivion. Even the most ardent WWE fan has to admit the current tag scene there is ATROCIOUS, especially considering they once boasted teams like The Hardy Boyz, The British Bulldogs, The Hart Foundation and many more. To its credit, TNA has a very credible tag team division, but the booking of it is sometimes to be desired. ROH has a very strong tag division, no doubt about it.
And so does NWA Hollywood. In fact, their tag scene reminds me in some ways of the awesome 1988-1989 period of NWA wrestling that featured teams like the Road Warriors, Rock N' Roll Express, Freebirds, Midnight Express and more. It's made up of athletic and hungry teams that have their own identifiable personalities.Moreover, the way the division is booked, it looks like any team can win the tag belts on any given day.
Sitting at the top of the heap are the heel team known as Natural Selection. These guys will someday make it to the "big leagues", make no mistake. They are awesome physical specimens, very muscular but capable of terrific athleticism. Of course they are as obnoxious as they come. They remind me of a bigger, stronger Midnight Express. Shawn Ricker has great charisma and speaking ability while partner Brian Cage is mediocre on the stick. They both deliver in the ring.
Hot on their trail are former champs, The RockNES Monsters, who are kind of the goofy, modern take on the Rock N' Roll Express. These dizzy California dudes are the Bill and Ted of wrestling, training by playing video games, reading comic books and of course playing a lot of air guitar. Their shtick could be annoying except that they have some of the most explosive and reckless offense I've ever seen. Johnny Goodtime, for a fairly big guy, is amazing in a John Morrison kind of way while the smaller Jonny Yuma is a one-man airforce. Their back and forth war with Natural Selection has been a highlight of NWA Hollywood's programming.
Natural Selection and the RockNES Monsters are at the apex, but there are other good teams on hand. The Tribe are two big, aggressive and colorful Native American wrestlers, Navajo Warrior and Hawaiian Lion, who are unusual due to the fact they are heels. They're in a feud with the equally big and powerful team of "SkullKrusher" Rasche Brown (from Milwaukee) and Slymm. Those guys are African-Americans and Brown in particular is a huge, scary dude with great athleticism. We also have Los Luchas, two masked Mexican wrestlers as well as Brandon Parker and Todd Chandler, a couple of undersized but skilled aerial specialists. And then you can have various combinations of The Standard to throw into the mix, with Joey Kaos and Peter Avalon seeming to be the most prevalent.
That is one strong tag team division, with a lot of ethnic and stylistic diversity. Frankly, it puts WWE's tag team line-up to shame.
3. KEEPING THE "FUN" IN "FUNDAMENTAL"
Without exception, the emphasis in NWA Hollywood is what happens in the ring. Not the wrestler's fictitious family lives or ability to rap or play country music. The hour long TV show is match-based, with good basic interviews between matches. Very rarely do you see wrestlers come to the ring with a microphone the way you do in WWE or TNA.  Feuds are all based on proving who's the better man, avenging an injury or loss, and, most importantly, chasing the all-important world titles.
You'd be surprised how much fun a wrestling show based on these simple ideas can be. You don't get bored waiting for guys to get done with well-rehearsed speeches that drag on. This was the formula that kept oldschool wrestling so popular before the age of the internet and Vince Russo's "Crash TV". NWA Hollywood is not living in the past totally but they've kept the best parts of it in their product.
Another thing that really helps is that it seems anyone can win at any time. There is a real feeling of parity amongst the wrestlers. The promotion's only been on TV for about 5 months, but they've already some produced some new young stars amongst their ranks...guys who have worked up from "enhancement" status to genuine stardom. Take Famous B, for example. This exciting young African-American competitor looks to be one of wrestling's stars of the future. He started as a kind of heelish "jobber" but looked so good in his losses that fans started to take a shine to him. The wins and cheers started to come and it looks now like Famous B is going to be a break-out star.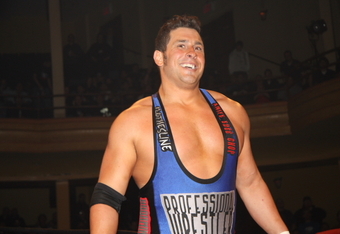 Beneath the top tier of guys like The Standard, Natural Selection, Colt Cabana and local favorite Joey Ryan are entertaining mid-card guys that are working their way up, like Rico Dynamite, Ray Rosas and Andrew Hellman. The heel Cedric The Hitman has yet to win an actual match, yet he's portrayed in such a way that he seems to be a very dangerous man. That was hard to do even in the old days. There's a comical hairy caveman type guy called Manimal who's sort of a lovable goof character...the kind that's been missing for 20 years in wrestling. I have a sense that this guy could really be a star if handled the right way.
These sort of simple booking fundamentals make NWA Hollywood a very pleasant promotion to watch. When you see Chris Masters or Zack Ryder come out on WWE programming, you know you'll get a dull match because there's no hunger in these guys and no sense they can advance. It's a lot more fun watching a young guy like Nick Madrid in NWA Hollywood...especially when he scores a huge upset non-title victory over NWA Champion Adam Pearce. That was one of the program's best moments!
There's a lot to like about this promotion, but it's also got some drawbacks. First, if you're used to the expensive, slick look of WWE shows with 20 different camera angles, tons of pyro and amazing lighting, you can forget NWA Hollywood. This is bare bones wrestling. Sometimes the crowds are small, but they seem enthusiastic and that helps. Besides, if you're interested in good action, you don't need an exploding graveyard or somebody driving out on stage in a Cadillac.
NWA Hollywood does try to promote women's wrestling, but their Ladies' Division is honestly weak. A lot of the girls try hard but the matches look awkward and often contain blown spots. Plus, frankly, they are not as attractive as the TNA Knockouts or WWE Divas. This would be easy to forgive if they were superb workers, but they just don't seem to measure up. Of all the "Lethal Ladies", I'd say Buggy is the one with the most potential, with her "Suicide Girl" looks, but she needs a lot of polish yet.
Another weak spot is the announcing. This has killed many an indy promotion and NWA Hollywood is badly hurt by having one of the worst, if not THE worst, color announcer I've ever heard in James Morgan. Apparently this clown is an actual wrestler, which makes his inability to call a single move even more mystifying. His whiny heel shtick is not funny and seems about 15-20 years out of date. Morgan comes from the "OH MY GOD!" and 'WHAT A MANEUVER!" school of calling matches. He also giggles insipidly whenever a heel gets the upper hand or squeals like a pig when the heel gets beat. It's not funny and it gets the wrong kind of heat. Good news is, I hear Morgan may soon be taken out of the announcer's chair. Bad news is, he's going to get a "Piper's Pit" type segment. Unless he's spectacular in the ring, he needs to get dumped altogether. Play-by-play guy Todd Keneally is adequate if unspectacular while third announcer Stu Stone does a good imitation of a fifth wheel. I much prefer the "interview" announcers like David Marquez (who actually runs the promotion), Jeff Resnick (maybe related to the AWA's Ken Resnick?) and Johnny LoQuasto...they remind me of the interviewers of old.
Main thing is, get James Morgan out of the announcing positon and off the microphone...QUICK!
Yet despite these flaws, NWA HOLLYWOOD has put out one of the most entertaining indy wrestling TV programs on today. To me, it's way more fun to watch than the "Big Boys" and if it lacks the total intensity of ROH, it still has great wrestling and even more of a comfy old school feel. I really recommend the program to discriminating fans of mat action. You can check out ALL the episodes, complete and uncut, at the promotion's website, www.nwahollywood.com.
[STOP THE PRESSES! Just learned that Chicago-based indy star COLT CABANA has managed to upset Adam Pearce and claim the NWA World Title! Is this the end of their epic feud? Or will "Scrap Iron" find a way to win the strap back from the likable "Boom Boom"? Also, if looks like James Morgan has been replaced by the much superior masked Excalibur as color commentator...so things are looking up in Hollywood!]
Who will the next indy promotion be to fall under the Doctor's microscope? Stay tuned to find out!!!