WORMWOOD CHRONICLES WRITERS' TOP RELEASES OF 2013

Hello there, humanoids. We know what you are here for...to pick the rotten brains of the Worm-crew and see what dismal manifestations of popular music we have bowed to during the recently departed year of 2013. Well, you're gonna get what you came for! The ranks of the Crew shift every year and 2013 was no different, but the lists remain. You will see some common threads in the lists below, but the only thing most of them have in common is an insane eclecticism. I will speak no further here, but allow you to dive right in. I will wrap things up at the end of this year's titanic revelations!
---
DARK STARR'S TOP 10 OF  2013
Early in the year I thought this was going to be a pretty mediocre year from music. I wasn't hearing a lot of stuff that was really exceptional. The thing is, as the year progressed, that
really changed. In fact, it wound up quite difficult to get this 
 list to any kind of decent length. I had to make some tough cuts to get it into a small enough format to work.
3. KITCHENS OF DISTINCTION - "Folly"


4. GANDALF'S FIST - "A Day In The Life of a Universal Wanderer"


5. QUEENSRYCHE - "Queensryche"


6. FLASH - "Featuring Ray Bennett and Colin Carter"


7. MOTORHEAD - "Aftershock"


8. WILLIAM SHATNER - "Ponder The Mystery"


9. LIQUID CASING - "A Separate/Divide"


10. KINGBATHMAT - "Overcoming the Monster"
---
COLONEL ANGUS' TOP 10 OF 2013
3. FATES WARNING - "Darkness In A Different Light"


4. DREAM THEATER - "Dream Theater"


5. THE WINERY DOGS - "The Winery Dogs"


6. MICHAEL SCHENKER - "Bridge The Gap"


7. MOTORHEAD - "Aftershock"


8. DEATH ANGEL - "The Dream Calls For Blood"


9. CIRCLE II CIRCLE - "Seasons Will Fall"


10. ANGELWITCH - "As Above, So Below"
---
PROFESSOR JOCKO'S TOP 10 OF 2013
3. SKELETONWITCH - "Serpents Unleashed"


4. SEVENDUST - "Black Out The Sun"


5. ALTER BRIDGE - "Fortress"


6. MOTORHEAD - "Aftershock"


7. ROB ZOMBIE - "Venomous Rat Regeneration Vendor"


8. SOULFLY - "Savages"


9. VOI VOD - "Target: Earth"


10. AVENGED SEVENFOLD - "Hail To The King"
---
DERELIKT WAUGH'S TOP 10 OF 2013
3. VOI VOD - "Target: Earth"


4. MYSTIC CHARMS - "Shadows of the Unknown" re-release


5. SYMPTOM - "Opulent Atrocity"


6. DEATHRUNE - "Those Who Choose The Fallen" (double disc re-release)


7. SATAN - "Life Sentence"


8. PENTAGRAM (CHILE) - "The Malefice"


9. PROTECTOR - "Reanimated Homunculus"


10. MACHETAZO - "Ruin"
---
DR. ABNER MALITY'S TOP 10 OF 2013
3. WINDHAND - "Soma"


4. SATAN - "Life Sentence"


5. ORANSSI PAZUZU - "Velonielu"


6. KRYPTS - "Unending Degredation"


7. DEATH ANGEL - "The Dream Calls For Blood"


8. PHILIP H. ANSELMO & THE ILLEGALS - "Walk Through Exits Only"


9. SATAN'S HOST - "Virgin Sails"


10. THE VISION BLEAK - "Witching Hour"

HONORABLE MENTIONS: ENFORCER, AUTOPSY, VOI VOD, RAZORMAZE, MICHAEL SCHENKER, DREAM DEATH, VICIOUS RUMORS
---
THOR'S TOP 10 OF 2013
I'm usually looking for the cutting edge in brutal music, yet this past year what's old is new again.  Half of these bands have been around for over 20 years.  It's incredible that these veteran groups all managed to put out legitimately great albums….
1. SUFFOCATION - "Pinnacle of Bedlam" (Brutal DM originators put out possibly their best album yet)
2. BROKEN HOPE - "Omen of Disease" (Chicago's progenitors of guttural brutality are back)
3. GORGUTS - "Colored Sands" (Dark, dense, ambitious old school death metal miasma)


4. PESTILENCE - "Obsideo" (Old school band playing heavy, catchy modern DM)


5. HONDURAN - "Street Eagles" (Muscular grindcore, heavy and pissed off)


6. ALL PIGS MUST DIE - "Nothing Violates This Nature" (Stripped down, aggressive extreme metal)


7. CARCASS - "Surgical Steel" (They hold the patent on Melodic DM and return like they never left)


8. TECH N9NE - "Something Else" (Technical hip hop with elements of everything including metal)


9.  MUMAKIL - "Flies Will Starve" (Relentless metallic grind)


10. PATHOLOGY - "Lords of Rephaim" (Well-produced slamming guttural brutality)


HONORABLE MENTION: BEYOND CREATION – "The Aura" (This is a re-issue of their 2011 tech-death debut, thus it violates our best-of rules, but it deserves a shout out nonetheless.)
---
OCTOPI MILLS' TOP 10 OF 2013
3. SUMMONING - "Old Mourning's Dawn"


4. MY DYING BRIDE - "The Manuscript"


5.PAYSAGE D' HIVER - "Das Tor"


6. KIMI KARKI - "The Bone of My Bones"


7. NOCTURNAL POISONING - "A Misleading Reality"


8. THE VISION BLEAK - "Witching Hour"


9. INQUISITION - "Obscure Verses For the Multiverse"


10. GRAVELAND - "Thunderbolts of the Gods"
---
JOE WHO'S TOP 10 OF 2013
3. VHOL - "Vhol"


4. AUTOPSY - "The Headless Ritual"


5. NAILS - "Abandon All Life"


6. KRYPTS - "Unending Degredation"


7. TWILIGHT OF THE GODS - "Fire On The Mountain"


8. ASG - "Blood Drive"


9. WITHERSCAPE - "The Inheritance"


10. OMNIUM GATHERUM - "Beyond"
---
THE GREAT SUN JESTER'S TOP 10 OF 2013
1. MONSTER MAGNET - "Last Patrol"

This legendary outfit returned in 2013 with its first release in many years. The absence has been kind to the band's creative juices - this is a varied, completely realized collection full of inspired playing and songwriting.
2. TROUBLE - "The Distortion Field"

 Returning with their first album since 2008's Simple Mind Condition, new vocalist Kyle Thomas succeeds at putting a distinctive stamp on fresh, aggressive material. Including the band's new album isn't simply a way of honoring that they managed recording one at all. This release does far more than re-establish the band - it trumpets their strengths while maintaining a forward-thinking energy.


3. PHILIP H. ANSELMO & THE ILLEGALS - "Walk Through Exits Only"

  Relentless - there is no other way to describe this free-ranging, wickedly intelligent aural assault. Anselmo, at this point, is working like an one-man dynamo of creative energy, but one listen to this album amply illustrates his unerring instinct for surrounding his projects with great players who share his vision.


4. DEEP PURPLE - "Now What?"

 Years after the release of "Rapture in the Deep", recorded while original keyboardist Jon Lord lived through his final days in England, and delivered following numerous false starts, Purple silenced any non-believers with this wildly ambitious, almost incomprehensibly brave album that rarely takes a single misstep.


5. VICTOR GRIFFIN'S IN-GRAVED - "Victor Griffin's In-Graved"

This legendary guitarist's new project, a retro-minded outfit complete with Hammond organ, dropped this stunner with little fanfare. Unlike other artists, Griffin never leaves me with the sense of being creatively wayward in his shifting between projects. He, instead, sounds like a seeker, like the sort depicted in the album's strong cover of the Jethro Tull classic "Teacher", chasing after the sound and songs he hears in his head. If this is true, this fantastic album brings him a little closer.


6. ROBIN TROWER - "Roots and Branches"

 2013 proved creatively kind to older, legacy artists. One of the underplayed stories is the release of this album from guitar virtuoso Robin Trower. Nominally, an album of covers paying tribute to his musical influences, this is actually much more akin to a creative fill-up. Revisiting these songs, the bedrock of his youth, plays like a genuine return to roots designed to inspire an even brighter future than before.


7. QUEENSRYCHE - "Queensryche"

 Despite the band's tawdry disintegration in press and public, one positive emerging from this trashy situation is the debut album from this lineup. The cliché that this sounds like a band with something to prove truly applies here as the songs roar at the listener and romp with the same exhilarating dramatic sweep of the band's earlier work.


8. STEVEN WILSON - "The Raven That Refused To Sing" (And Other Stories)

  Released by progressive rock's resident genius, studio rat extraordinaire, and mercurial leader of Porcupine Tree, this stunning collection caught everyone a bit by surprise with its depth and cohesion. No creative force in the genre has produced work with such unity of theme and sonic identity since King Crimson's "double trio" era.


9. QUEENS OF THE STONE AGE - "Like Clockwork"

Josh Homme is growing up. There is a sense of looking back on this album and Homme reconnects with a number of classic elements and sounds important in the band's history, but these moments function as a jumping off point for the future rather than a signal of retreat. Rather than sprawling into self-indulgence, searching for some elusive moment of fission, the songs on this album are clinched-fists that hit the listener with tremendous immediacy.


10. CLUTCH - "Earth Rocker"
 Neil Fallon and company served up a blistering slab of hard rock on this album, their first in four years. Beyond one slow burner, the band plays like an unit intent on blowing your hair back with their boundless energy. That go-for-broke energy, coupled with their distinctive songwriting, produced a monolithic guitar album.
---
DON S. MACCOBB'S TOP 10 OF 2013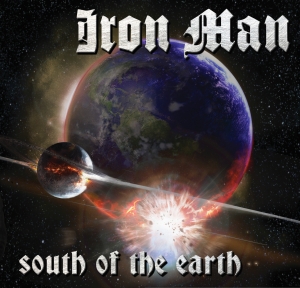 2. DEVIL - "Gather The Sinners"


3. BEELZEFUZZ - "Beelzefuzz"


4. HEAD OF THE DEMON - "Head of the Demon"


5. BLOOD CEREMONY - "The Eldritch Dark"


6. NYMF - "From the Dark"


7. ABYSMAL GRIEF - "Feretri"


8. UNCLE ACID & THE DEADBEATS - "Mind Control"


9. BLIZARO - "Strange Doorways"


10. HOLLOW LEG - "Abysmal"
---
RUSTY COFFINNAILS' TOP 10 OF 2013
3. MORTILLERY - "Origin of Extinction"


4. KOLDBRANN - "Vertigo"


5. LYCUS - "Tempest"


6. SKELETONWITCH - "Serpents Unleashed"


7. AMON AMARTH - "Deceiver of the Gods"


8. DEMON LUNG - "The Hundredth Name"


9. TOXIC HOLOCAUST - "Chemistry of Consciousness"


10. DARKTHRONE - "The Underground Resistance"
---
THRASH-HEAD'S TOP 10 OF 2013
1. FEARED - "Vinter"
Easily the best album of the year (and the second that the band put out this year...wow!). Ola Englund just writes music that is unapologetically heavy and modern. There's nothing throwback, retro, or atmospheric here. It's just plug in and destroy throughout the entire disc.
2. PYRITHION - "The Burden of Sorrow"

It's an EP. We'll probably never ever hear anything else from them because of the singer's legal woes. But the numbers don't lie...my iPod says I've listened to this thing 40+ times already. It's just really awesome brutal core-ish death.


3. FUNERAL FOR A FRIEND - "Conduit"

Yeah, not very metal, but I've been a fan since they've been putting out records, and I'm really happy that the most recent stuff they are doing is about getting back to just making a badass rock record.


4. ARSIS - "Unwelcome"

I've flown the flag for this band for years, and they reward me with their best record yet. That is how I choose to view it. Amazing technical death/thrash that's all over the place.


5. IMMOLATION - "Kingdom of Conspiracy"

I have NEVER been more impressed with an Immolation release...holy shit! Easily the best sound they've ever had and the best writing too. Don't stop, whatever you do!


6. KALMAH - "Seventh Swamphony"

Goes for the throat and doesn't let up. Great, driving melodic thrash/death with a folk-ish tint to it.


7. AMARANTHE - "The Nexus"

I love me something heavy and catchy (even to a pop-ish degree), and this band has set new standards since its inception.


8. OMNIUM GATHERUM - "Beyond"

Wow...more melodic death/thrash from Scandinavia, but this band is all over the map also throwing in plenty of atmosphere and the occasional slow, doomy passage.


9. DARKANE - "The Sinister Supremacy"

The original singer is back, and this album is about as kick-ass as we could have hoped for!


10. SUFFOCATION - "Pinnacle of Bedlam"
They do what they do and they do it better than m
o
st. This is the band that so many others wish they were. And this is them at their most technically proficient, too.
---
JENS HELLROUTE'S TOP 10 OF 2013
3. ABYSSAL - "Novit Enim Dominus Qui Sunt Eius"


4. EMENKAYA - "Emenkaya"


5. CARCASS - "Surgical Steel"


6. ~Y~ - "Horisonte de Successos"


7. OBLIVIANS - "Desperation"


8. GARY WRONG GROUP - "Knights of Misery"


9. MACHETAZO - "Ruin"


10. MOTORHEAD - "Aftershock"
---
LORD RANDALL'S TOP 10 OF 2013
3. ALTARS - "Paramnesia"


4. CORRECTIONS HOUSE - "Last City Zero"


5. WINDHAND - "Soma"


6. RIITAOJA - "Manteroelle"


7. TRIBULATION - "The Formulas of Death"


8. SEIDR - "Ginnungagap"


9. ENSHADOWED - "Magic Chaos Psychedelia"


Yup, quite a cheerful mess, but a few things stand out. It seems the most universally admired effort was "Surgical Steel" by CARCASS, which popped up on the most lists. Consensus seems to be that this is one of the best comeback albums of all time. Not far behind was the self-titled effort from the restructured QUEENSRYCHE and a surprisingly robust "Now What?" from DEEP PURPLE. INQUISITION and SUFFOCATION also popped up on more than one list.


Only thing left to say is...
SEE YOU NEXT YEAR!