WITHERED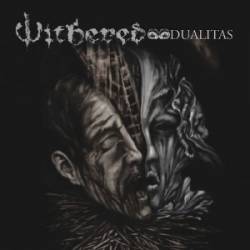 "Dualitas"
By Dr. Abner Mality
You are going to feel like a piece of dough that's been stretched, flattened and beaten severely with a rolling pin by the time "Dualitas" is through with you. This is simply one of the most purely HEAVY releases that you could subject your speakers to. In fact, I'd make sure that you've got some major league equipment or else Withered will blow your stereo apart.
I thought Withered were impressive with their last offering "Folie Circulaire", but that was just a bit of warm-up for "Dualitas". The band channels the best and heaviest aspects of death, doom and black metal and adds gloomy atmospherics to create a crushing and relentless beast. "Extinguished With the Weary" opens the proceedings like a charging rhino made of cast iron.....absolute death metal with a guitar sound that will blow your mind. This shit is HEAVY...a fact that becomes even more apparent with the epic "Residue In the Void", which shifts from bone-crumbling doom to a howling black metal blur to more extreme death. What an utter monster of a track! These guys make use of whatever heavy style is appropriate and they stitch it all together like Frankenstein's Monster. Even the tracks that you think might offer relief, "Interlude" and "Outro", are both slabs of punishing low-end drone to add unease. There is no respite on "Dualitas" and you're gonna be battered senseless by the end of this 42 minute brute.
Withered is certainly one of Prosthetic's best bands and no true lover of sonic overkill should miss "Dualitas".