WITCH CROSS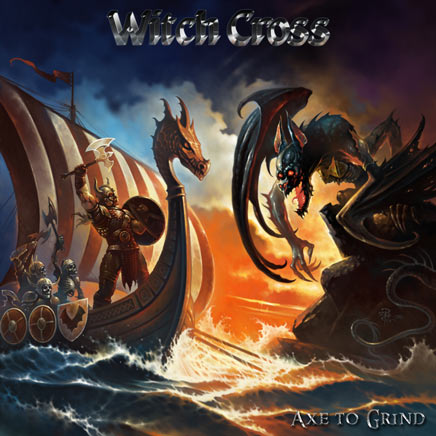 "Axe To Grind"
By Colonel Angus
There is a certain sound and style that takes me back to the glory days of metal.  I don't mean when metal became mainstream with Headbanger's Ball and MTV.  I'm talking about the scene that started in 1980 and lasted for a few years, before the dreaded hair metal explosion.  Those were the days when each band sounded unique and it was a scene where bands flew the heavy metal flag instead of looking at bottom line profits or demographics.  They played from the heart and it came through and being sincere.  When I heard Witch Cross was releasing something new, I couldn't believe it.  I remember listening to their "Fit For Fight" record with my friends and hoping that one day they would play here in the states.  To my knowledge that never happened (at least not in the Midwest) but that didn't stop us from wearing out the album with multiple air guitar showcases.
"Axe To Grind" is their first full release since 1984.  Musically, Witch Cross haven't changed much.  Even the recording style is very similar to that started on "Fit To Fight".  I am so glad that they have stuck with the original blueprint and didn't deviate from what made them special.  Just grab a listen to the instrumental title track and try to tell me that you were not transported back in time to 1980.  Even though Witch Cross is from Denmark, they had that sound that was made famous by the NWOBHM bands.  Fans of early Iron Maiden and Saxon will want to get their hands on this release.  Standout cuts are "Metal Nation", "Bird Of Prey" and the heavy "Part Of The Machine".  While I like some songs better than others, there is not a bad tune on "Axe To Grind".
Hells Headbangers who re-released "Fit For Fight" are putting out "Axe To Grind".  They did a really nice job on the re-release of their catalogue so it only makes sense that they keep the Witch Cross flag flying.  I don't have much info on who is still with the band but suffice to say, it still sounds very much the same.  It's as if 1985 through 2012 never happened.  They picked up where they left off and kept their legacy intact.  There are some bands that progress and mature through their careers and we as fans grow and mature also.  Other bands stay the same and take us back to a fun time in our lives when all we had was friends, heavy metal, and good times.  "Axe To Grind" took me back to that time and I have Witch Cross to thank for that.  If you want to relive your metal (or mental) youth, get this release.
www.hellsheadbangers.com
www.witchcross.dk