VARIOUS ARTISTS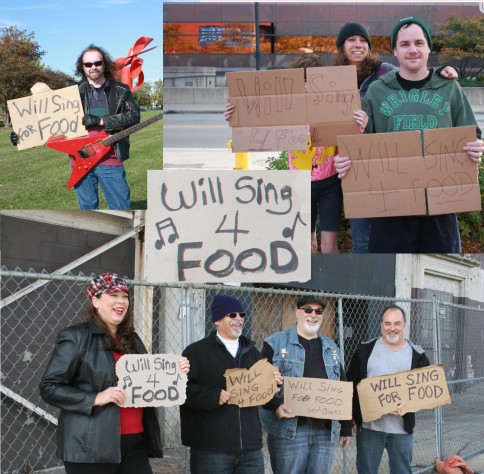 "Will Sing For Food: A Charity Album to Benefit the Rock River Valley Food Pantry"
By Colonel Angus
(NOTE: I'm happy to include this review even though it is kind of off the usual Wormwood musical style. First, because it's for a a very good cause and second, it features the work of local artists I am lucky to know!--Santa Mality)
Charity albums are often tricky because you want to make sure that you support the cause but you also want to be honest with regard to the music.  Often, you get leftovers from an artist who wants to be associated with the charity but does not want to "waste" a great tune on a various artists disk.  Luckily, this album is packed full of great music by unknown artists.  You can look at this record as a sampler but you also get the added benefit of donating to a good cause.  Now, I'm not going to lie to you and say this is a cohesive record that has a common theme to it because it could not be any further from that.  There are many musical styles and although it does not seem to make sense, when you listen to it as a whole, it somehow fits together.  I have listened to the whole disk many times and each time I pick up on other things that I haven't heard before which makes for a really interesting listen.  If you are looking for a great set of tunes that you want to have in the background during a party (but not a keg party) then this collection of songs is for you. I also feel these tracks work on another level; when you don't know quite what you want to listen to but want some variety.  Either way, if you purchase this group of cuts, you will be a rewarded twice; once for the music and the other for helping other folks in need.  Go to
https://www.facebook.com/pages/Will-Sing-for-Food/504161196357985
and show your support.