TOXIC HOLOCAUST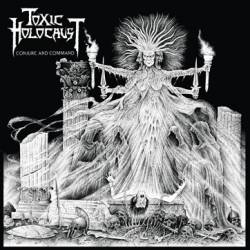 "Conjure And Command"

By Lord Randall


Sorry, I just have a hard time seeing Joel Grind's TOXIC HOLOCAUST as a "retro-
Insert Genre Descriptor Here" band. Dude's been at it for close to 13 years, mostly 
going it alone when members of bands who shall remain nameless were still not allowed TV on school nights. Sure, the Relapse-released "An Overdose Of Death…" back in '08 made TH a household name of sorts, but I've no doubt that if that particular bongwater-stained rug were pulled out from under the project, TOXIC HOLOCAUST would continue being what it's been thus far – a damned reliable place to go for damned reliable metal.
'Judgment Awaits You' kicks off "Conjure And Command" in fine form (Hey, anytime a riff pops up in a song that makes me think of NUCLEAR ASSAULT's Game Over, I'm good.). 'Bitch' dips in quality at first, the opening drum pattern coming off as
 weaker than it could've/should've been, but once the guitars kick in and things get rockin', rock they do. Doom out the riff a bit, make the vocals more gruff, and it's a 
pretty decent ACID WITCH song. The militaristic goose-step of 'Red Winter' wins,
moving soon to a chugging groove, though I can't help but get the feeling that TH 
has slowed a bit as a whole, tempo-wise. Maybe it's a case of improved musicianship, maybe wanting to "try new things", but the non-frantic pace found in parts of "Conjure And Command" will have some longtime fans disappointed. Over the years, Grind's got himself a fairly (un)righteous Cronos vocal style, employed to great effect on the  VENOM-ous 'I Am Disease'. 'The Liars Are Burning' is circle pit-worthy in its moshability, and the finale of 'Sound The Charge' sees TOXIC HOLOCAUST showing any would-be detractors worried about the "loss of pace" mentioned before that the boys can still rip it up when the need arises.

In all, the amount of fans Grind may lose with "Conjure And Command" will be easily replaced. "An Overdose Of Death…" showed the world what TOXIC HOLOCAUST was capable of in 2008. This one shows a band not afraid to bring in other influences, or to play from their hearts, burning the bandwagon as they go. 

www.relapse.com
www.myspace.com/toxicholocaust