THRESHOLD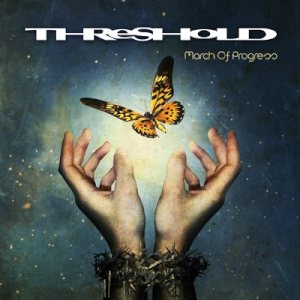 "March Of Progress"
By Colonel Angus
Prog metal has been a growing sub-genre of the metal movement for quite a few years now and there are quite a few bands that are masters of their craft.  For many people, Dream Theater is probably the first name that comes to mind but Threshold is right up there in my mind.  Both bands have a foundation that is based on metal riffs and both bands use swaths of keyboards to counter that heaviness with some lighter moments.  Although their sound is different, the biggest difference off the bat is their vocals.  Damian Wilson has less of a high pitched vocal and more of a melodic euro-metal style.  Another difference is that the material on "March Of Progress" is at times less technical and more just playing the song.  That is not a dig at either band or style.   It is that just that some bands get caught up in showing off their chops and forget that not every listener is a musician or cares how good they are at their instruments.  The tracks here are more focused on the songs and I think that is makes for a much better listen.
It is hard to pick apart this record because all the songs are high quality tunes and they contain the same features that like great riffs, vocals, and drumming with keyboard flourishes on top.  After listening to "March Of Progress" about a half dozen times, some songs rise to the top but just barely.  "Liberty Complacency Dependency" and "Don't Look Down" both contain some memorable riffs and both contain some great soloing from Karl Groom.  "Return Of The Thought Police" is another stand out track but quite honestly, all of the tunes are strong and they all flow well together.  Even though I like the above mentioned songs best, I think "March Of Progress" works best as a whole.  I realize that many people don't have time to sit down and listen to an album in its entirety each time but this is one of those records that is greater than the sum of its parts.
Damian Wilson been in and out of the band a couple of times but I have always liked his vocals so I was happy to see him back following the tragic death of previous singer Andy McDermott.  Karl Groom puts in an exceptional performance with quality, memorable riff s and soaring solos.  Pete Morten also adds some great guitar work.   Steve Anderson and Johanne James are no second rate rhythm section and they lay down a solid foundation for Richard West (keyboards) and the others to their thing.  The whole band knows their way around their respective instruments but what makes Threshold special is that they are able to use that talent to write good songs.  "March Of Progress" is proof of that.  Nuclear Blast Records has a winner on their hands and this album should be in every prog metal fan's collection.
www.nuclearblastusa.com
www.thresh.net