TELERGY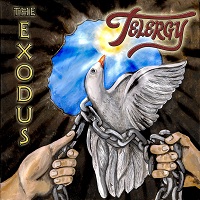 "The Exodus"
By  Dark Starr
This is an album based on the book of "Exodus." Just that knowledge makes this a concept album. Musically it is very theatrical with sections of dialog interspersed amongst the songs. At times it leans towards metal, at times in the vicinity of world music. All in all, though, it fits pretty well under the heading of "progressive rock," and it might be argued that it's a rock opera. Whatever you call it, it's a cool disc with a lot of different sounds.
The cinematic nature is immediately apparent with opening track "Into The Past", which opens with a spoken dialogue covering the enslavement of the Jews by the Egyptians before switching into a beautiful keyboard oriented motif and then switching to hard-hitting metallic prog. "Enslavement" is definitely metal...a crunching, plodding tune with powerful guitars. On the other hand, "Pleading" comes across as almost totally classical in approach. The centerpiece of the album is the 15 minute plus "Plagues", where Telergy throws everything but the kitchen sink at the listener...jazz fusion, a touch of funk, world music and more metallic prog. It could have been terrible but instead works very well. We get more of this varied approach throughout the album, including a cover of Pink Floyd's "Is There Anybody Out There?"
 I'm personally a little overwhelmed at the story itself, but if you look at it as literature, then it makes a bit more sense.
http://www.telergymusic.com