SHAKRA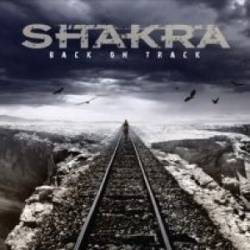 "Back On Track"
By Colonel Angus
Shakra is back with a new singer and they certainly are "back on track".  I liked their output since the first record and although they are not going to set the world on fire with Back On Track, it is still a worthwhile release.  The big question is whether or not this record works with Mark Fox's replacement.  John Prakesh has a great set of pipes and I think the band made a really good choice in picking him.  He has a bit of a raspy-ness to his vocals in part and that helps out some of the heavier tunes like "MMTWGR" and "Someday".  On more melodic tunes like "Yesterday's Gone" and "Crazy", his vocals are a little more clean.  Even though there are some major differences between the two bands, Shakra always reminded me of Conception.  When the latter broke up, it seems like Shakra filled that void for me.  Like I said, they are very different bands but they still remind me of each other.
 Back On Track is a varied release in that the there are heavier moments like the songs mentioned above, melodic rock tunes, and even a power ballad of sorts in "Lonesomeness".  All the tracks here are well crafted rock tunes that have basically the same formula.  At times they have a same-ness to them but upon closer listen, there are some cool subtle nuances to each song.  In the age of CDs when the cuts towards the end tend to be filler, Back On Track contains strong material throughout.  Later cuts like "Unspoken Truth" and "Stronger Than Ever" are as good as anything on the disk.
 Thom Blunier and Thomas Munster provide some great guitar work with Blunier adding the melodic lead solos.  Dominik Pfister (bass) and Roger Tanner (drums) are as solid as any rhythm section out there.  The band is one tight unit and with new vocalist Prakesh, they have created a really good album.  AFM Records has always had a roster of quality bands and Shakra is no different.  Like I mentioned earlier, this release won't set the world on fire but if your looking for some really good tunes performed by a band that know what they're doing, then I suggest you check "Back On Track" out.  If you are long time fan of the band, you pretty much know what you are getting and I think you'll be happy with Prakesh's vocals.
www.afm-records.de
www.shakra.ch