SACRIFICIAL SLAUGHTER/ ENFUNERATION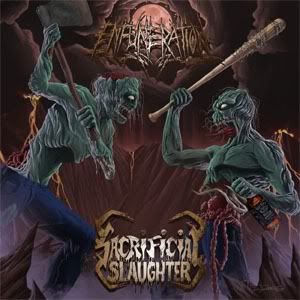 "Split LP"
By Dr. Abner Mality
Two rotting zombies trying to tear each other to pieces sums up what this split is about pretty well visually. Sacrificial Slaughter and Enfuneration have teamed up to show that pure American death metal is alive and well in 2011.
That's good to hear, because this year, most death metal has been of the Swedish variety, mixed in with retro-trash and sludge/doom/occult stuff. I haven't been hearing many bands ripping the flesh in the tradition of Malevolent Creation, Immolation, Baphomet and more this year, but these guys keep the flame burning and provide a satisfying fix of nothing but all-American sonic cruelty. Expect no surprises from California's Sacrificial Slaughter, but with a name like that, I doubt if you're offended by a lack of synthesizers and atmospheric acoustic parts. This band's five tracks are relentless thrash-based death metal that engulfs you in a whirlwind of violence. The true roots of American death metal lie in thrash and neither Sacrificial Slaughter or Enfuneration have forgotten that...you can smell the stench of Slayer and Exodus hovering strongly over this whole split.
Having seen Oklahoma's Enfuneration play live, I can confirm they are absolutely one of the most devastating live acts in the States. Pure merciless brutality...but does it translate to CD? Not quite, but I'm happy to say the five tracks these guys dish out are darker, heavier and nastier even than Sacrificial Slaughter's. Songs like "Bearing Their Scars" and "Stygian Darkness" have a dark, forbidding sound that reminds one of Immolation's "Dawn of Possession". Also, David Thompson has a really excellent death metal growl that permeates each track and adds an extra layer of filth. Enfuneration's material is not original in the least, but very well executed, with a variety of tempos and catchy riffs. If you ever have a chance to see them live, though, jump on it! That's where they really shine!
If you've been lacking a daily dose of American death metal, this gnarly split will put some fiber back in your diet!
www.horrorpaingoredeath.com
www.myspace.com/championsofmetal
www.myspace.com/enfuneration