RIOT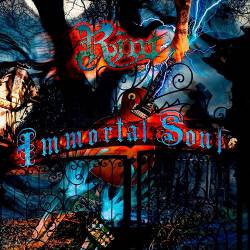 "Immortal Soul"
By Dr. Abner Mality
The long and storied career of Riot has taken some twists and turns over its 30-year plus length. I go all the way back to the beginning and 70's stuff like "Narita", when the band could more properly be labelled hard rock verging on metal. Then came the years when the late Rhett Forrester added grit and fire to the band, resulting in classics like "Swords and Tequila" and a sound somewhat akin to AC/DC meeting Priest's "Hell Bent For Leather". After Forrester's departure, Riot began to go in a more power metal/speed metal direction, which led to the great success of "Thundersteel" in 1988. And Riot has pretty much stuck to that style in all the years since that breakout release.
With "Immortal Soul", the power metal influence is stronger than ever, perhaps even more than on "Thundersteel". Fans of bands like Jag Panzer, Exxplorer and Metal Church should really go ape over this record, which kicks off explosively with "Still The Man" and then goes into overdrive with the raging "Riot". These first two tracks set expectations very high for "Immortal Soul", but unfortunately those expectations are only partially met by the rest of the album and never really surpassed.  Speed is a very important component of the record, with "Riot" being maybe their all-time fastest song and closely followed by "Sins of the Father" and "Wings Are For Angels". There are slower, more mid-tempo tunes like "Crawling", "Fall Before Me" and "Believe" in the mix, but they don't seem to pack the same punch and in fact, the second half of "Immortal Soul" is notably leff effective than the first, with average tunes like "Insanity" and the title track raising their heads.
Performances are fine throughout. Tony Moore, the voice of "Thundersteel", is back on lead vocals and puts a lot of energy in his performance. I never thought Tony was in the top tier of guys like Ripper Owens or Harry Conklin, but he fits the Riot style and is never less than acceptable. One thing that really struck me about "Immortal Soul" is the cleverness and skill of the lyrics. Tunes like "Whiskey Man", "Fall Before Me" and "Still The Man" really tell intelligent stories while keeping to the time-honored tropes of power metal.
Even if the whole album can't match the brilliance of the first two cuts, "Immortal Soul" is still a solid power metal album with a lot of enjoyable aspects.
www.spv.de
www.riotsweb.com