MYRATH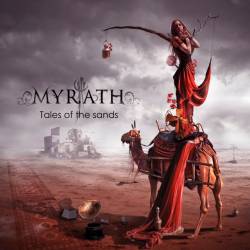 "Tales of the Sands"
By Dr. Abner Mality
Middle Eastern influences in heavy metal have exploded in the last few years but Italy's Myrath take a different approach than many others I have heard. Whereas most overtly Middle Eastern inspired bands come from the heavier end of the spectrum such as Nile, Melechesh and Aeternam, Myrath pursues a much more melodic direction in the vein of prog and power metal. The result is really uneven but certainly has moments of great interest.
Although there are times when the guitars really crank and chug, Myrath remains a band with a light touch, sometimes even verging on AOR. There is a constant tug of war being fought throughout "Tales of the Sands" between syrupy sappiness and heavier material. Every song seems to mirror the struggle..."Braving The Seas" and "Requiem For a Goodbye" have both choppy, downtuned riffs and pretty, flowery vocals. Singer Zaher Zorgatti has a light, pleasant voice which never veers into harsh or growling territory. There are times when the light/heavy contrasts work very well, especially when mixed with some very haunting Middle Eastern sounds...and there are other times when the melodic stuff is just too cloying and corny.
The playing is rock solid throughout and the band has found a great way to integrate Oriental strings and percussion with their music. Everything comes together on "Merciless Times", which is a great progressive metal song with Middle Eastern touches. "Dawn Within" is not too far behind. But again, there are sappy parts that arise in other tunes like "Sour Sigh" that really hurt.
If you are a lover of melodic hard rock and AOR, add points to "Tales of The Sands". It's an interesting attempt to merge several genres.
www.nightmarerecords.com
www.myrath.com