MURDER CONSTRUCT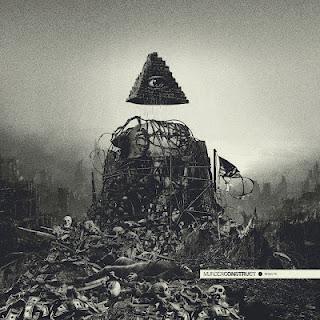 "Results"
By Thor
Murder Construct, a deathgrind super group that's been together for over a decade now, has finally unleashed their first full length album – "Results" – through Relapse Records. 
The group is comprised of members from several notable extreme acts including Cattle Decapitation and Exhumed.  They play a distinctly metallic strain of grindcore that's fast and abrasive and, to no one's surprise, features very little groove.  The music's propelled forward on a bevy of blastbeats that fuel grinding chords, doing speed the way Napalm Death does speed.  The vocals are mostly midrange gutturals with occasionally off-putting sing-songy grind scream flourishes courtesy of Travis Ryan (Cattle Decapitation). 
Murder Construct doesn't play the most dynamic style of music.  They get a little repetitive and that gets dull at points.  This is compounded by relatively little punch amid the chaos.  However, the band never goes too abstract for too long, which goes a long way toward staving off outright boredom as well as the fact that these guys can fucking play and they do it fast and they do it in earnest.
The album's highlights are strong.  "No Question, No Comment" is a ripper – it's this album in a nutshell.  "Compelled by Mediocrity" is the first track to break up the monotony by changing up the tempo, and the songs "Feign Ignorance" and "Mercy, Mercy" both have more than enough muscle to get the adrenalin pumping.  The album ends with "Resultados", a droning clunker that lacks energy.  It's as if they took a swing at being atmospheric and missed. 
But despite the anticlimactic ending, Murder Construct's "Results" is an extremely well-produced collection of lean grind, short and uncompromising, and sure to satisfy fans of bands like Terrorizer, Hate Plow, and even Hate Eternal.  They haven't reinvented the wheel, but this wheel is a pretty bad motherfucker nonetheless.
www.relapse.com
www.murderconstruct.com