MONSTER MAGNET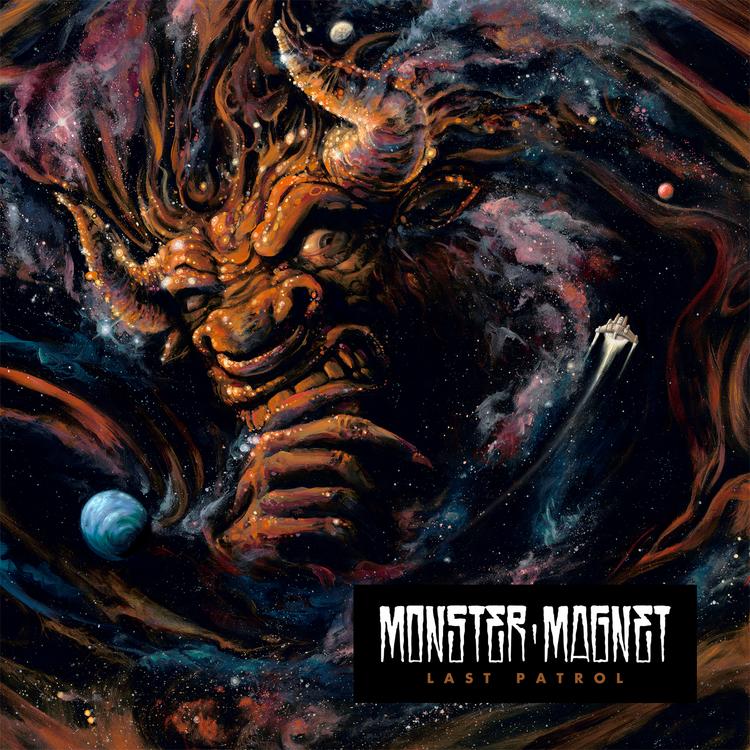 "Last Patrol"
By Great Sun Jester
Released by Napalm Records, the album kicks off in magnificent fashion with "I Live Behind The Clouds". It opens with a slow, hypnotic burn backed by a spare guitar and dramatic, haunted vocals. The lyrical content is far above average for the genre and full of rich, intelligent imagery that compliments the music. Another quality present in this song and others that sets the band apart from many contemporaries is how Dave Wyndorf's vocals are a part in the band's musical attack rather than singing over the band. The band's unlikely, daring cover of Donovan's "Three Kingfishers" manages to straddle the line between respectful treatment and radical reinvisioning. Once again, Wyndorf excels, but the song benefits as much from Garrett Sweeny's guitar solo.
  "Paradise" is a moody, brilliant work that accomplishes more with understatement than most bands can with a wall of amplifiers. Monster Magnet consistently demonstrates an ability to create atmospheric textures that never sound premeditated or constructed. Even in the traditionally sterile confines of a studio, this song has an immediacy that makes it compelling from the first bar. The album's best all-out rocker, "End of Time", has a surprising freshness despite being a stab at some social commentary. Musically, it surges ahead on the back of some particularly feverish guitar work from Sweeny, but drummer Bob Pantella and bassist Chris Kosnick hold everything together with tight, energetic playing. The lyrical content rises above standard tropes because it comes through a unique consciousness like Wyndorf and remains very unconcerned with current events. It is a deeply personal expression not searching for new converts.
 The album's finale, "Stay Tuned", is another textured and moody piece. The lyrics sound a rare note of hope on the album, but acknowledge that its hard-won hope sharpened by continuing adversity. This mature message dovetails neatly into the reflective, ethereal backing. The acoustic guitar work emerges from a swirl of ambient noise, but weaves around Wyndorf's vocals like a stringed counterpoint to his musings. It is a strong example of the ambition, creativity, and artistic shrewdness that Monster Magnet has brought to this album. "The Last Patrol" ranks among the best albums in the band's career. Highly recommended.
www.napalmrecords.com
www.zodiaclung.com