MOLLY HATCHET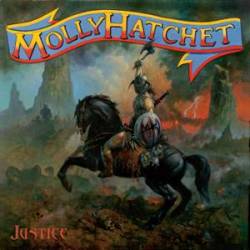 "Justice"
By Dr, Abner Mality
My love for hard-edged Southern rock was rekindled by Molly's previous album "Warriors of The Rainbow Bridge", but "Justice" takes that spark and blows it into a roaring flame. In its own way, this album is as intense and powerful as any thrash or death metal album you could name. Everything that made "Warriors..." so good is amped up here to the Nth degree. I could imagine Buddhist monks from Tibet drinking PBR and eating moonpies after this scorcher is done playing.
"Justice" is laid out like a brilliant military campaign. We open with the rough and ready "Been To Heaven, Been To Hell" and proceed through some more tried-and-tested Molly Hatchet crunch with "Safe In My Skin", "Deep Water", and "American Pride". This combination of metallic stomp with bluesy boogie and Phil McCormick's thick redneck brogue is the very essence of the band. Then things cool down and get moody with "Gonna Live Til I Die", the soaring ballad "Fly On Wings of Angels" (dedicated to a little girl murdered by a predator) and the sentimental piano-driven "As Heaven Is Forever". I want to say here that long-time keyboardist John Galvin is one of the most underrated musicians in rock. During the course of "Justice", he not only cranks out the boogie, but plays almost classically influenced keyboard worthy of any orchestra.
The power comes back with "Tomorrow and Forever", but that's only the warm-up for the amazing triple play that ends the album, as "Vengeance", "In the Darkness of the Light" and the awe-inspiring title track each bring out true Southern metal epics that build and build, featuring a crippling triple axe attack that could lay waste to just about any guitar-based band around. These are beautiful songs, particularly "Justice" itself, which is like a movie soundtrack with the most ass-kicking guitar solos any one could ask. Honestly, it is probably the best song this band has ever done and definitely one of my favorites this year.
Archetypal Southern-fried rock in every regard, "Justice" typifies its genre the way that "Reign In Blood" defined thrash or "Images and Words defined prog metal.