MAYAN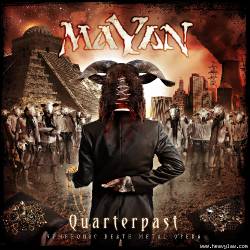 "Quarterpast"

By Lord Randall


Formed just last year by members and ex-members of GOD DETHRONED and 
EPICA, MAYAN had its work cut out for it from jump. Would they take the road 
of the former into forward-thinking yet recognizable death metal, or the path of the 
latter towards lands of symphonic power? As it turns out, both, each with varying 
degrees of success.

A song by song analysis of "Quarterpast" would be pointless and 
self-serving on this writer's part, especially when a fair share of the album
is overly indulgent on its own. Thus, we'll stick with a few highs and lows, 
and call it a day. The debut begins with the aptly-titled 'Symphony Of Aggression',
letting the listener know from whence MAYAN is attempting to come in a musical
sense. The problem is, everything seems it's coming at you from all directions at 
once. While I'm a huge fan of bands throwing sonic curve balls into the mix, and
feel that such a maneuver – when executed successfully – can often pull a song out of the mire of mediocrity, it just doesn't happen here. That this same problem presents itself over a few spaces throughout "Quarterpast" doesn't help matters either. 'Course Of Life' and 'The Savage Massacre' work and work well, utilizing MAYAN's hybrid sound to its full potential, the guitar work of Isaac Delahaye being 
particularly fascinating as always. The former GOD DETHRONED shredder brought out the best in that band with his skillful playing, and continues to do so here, though he's often fighting a losing battle against the hundred other things happening within the realm of a MAYAN song. Mark Jansen has brought Simone Simons and personal favorite Floor Jansen in to do occasional background vocals yet, while she's stellar in her range and skill as usual, the move just comes off as "too easy" for a band trying to push too many envelopes in too many different directions.
'Celibate Aphrodite' is the one song where I can say without reservation that MAYAN is hitting all their stops, blending the symphonic and slamming in such a way as to foster hope in the band's future output, but the lengthy "bonus track" 'A Sinner's Retreat' stumbles from the start, ending the album on a low note.

In short, all you need to know is this. "Quarterpast" is an album played by talented 
performers that fails due to the nonexistence of  actual songs. At mere seconds under an hour of playing time and precious little memorable to show for it, I'm a quarter past caring.
www.nuclearblastusa.com
www.mayanofficial.com