KALMAH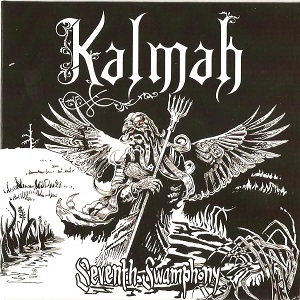 "Seventh Swamphony"
By Thrash-head
Few would deny that in the late 1990s and very early 2000s, Finnish death metal began shifting it's direction across the board. Although Amorphis themselves never lost any stride, the whole 'depression metal' thing just kinda faded away, to be replaced by something far more aggressive and energetic. Bands such as Children of Bodom, Norther, and Insomnium broke through with a sound that although was still firmly rooted in the brutality of death metal, were not too shy to throw in the occasional thrash and black metal influence to in turn create something new and exciting. With the exception of perhaps the aforementioned Insomnium, Kalmah had always been perhaps the most flat-out extreme and aggro, and has steadily upped the ante with every succeeding release.
Right from the get-go, this disc opens up with a synth-hit-infused blasting skank-beat that flows easily into the pit-worthy yet SUPER-catchy chorus. This kind of sets the tone for this whole disc, and you get eight incredibly intense-yet-focus fistpumping/headbanging perfect examples of memorably melodic death metal that oozes every ounce of brutality that it can out of the riffage contained herein. A theme that is echoed in practically every song they've ever done is their effortless use of solemn, slightly-folksy lead guitar melodies on top of the high-energy thrashy rhythms underneath. Songs such as "Deadfall" and "Wolves On The Throne" are amazing and true-to-form for this band; heavy on melody and light on respite. The former song also features a glimpse of the ivory-tickling prowess of new keyboardist Veli-Matti Kananen, who in both his melody lines and also in his soloing has an almost youthful whimsy as he jams up and down the board. Once you notice it for the first time, you tend to notice that this may be one of the most keyboard-heavy albums the band has ever done, but that is because this may be the first time since 2002 that the band's keyboardist has had anything meaningful to add to the table in terms of songwriting. Maybe that's a bit drastic, but that's sure what it sounds like here, and that isn't to say that the omnipresent keys drown out the massive wall of guitar and bass.
 Antti Kokko is still one of underground metal's unknown guitar heroes with how deftly he weaves his melody lines through these tracks, and never mind how ridiculous his solos are. Need a point of reference? He's a straight-faced, serious, no-B.S. version of Alexi Laiho. And his brother Pekka Kokko's voice has never sounded better either, easily crossing from the higher-pitched, black metal-version of Mille Petrozza he always used to do on the older records with the flat-out demonic growl he's wielded since the masterful "The Black Waltz" album. He even manages to weave in a bit of clean singing for the first time that I can remember hearing on a Kalmah record, and speaking of which...
...remember how in the first paragraph we kind of stated that the melancholic Finnish death metal of yesteryear has been kind of hard to find as of late? Well, Kalmah decided to dish out their own version in fourth track "Hollo." After listening to it maybe 10 times now, I've realized that I just need to stop the internal dialogue on whether or not it's a good direction for the band and instead just focus on how amazing the song itself is. For most of the track it really is one of the best pieces of old school Amorphis-worship that I've ever heard, before doing a Viking metal shift about halfway through, complete with calling horns and battle-ready gang vocals. Apart from this tune, the most that Kalmah otherwise deviates from what they know works is the almost-punky opening of "Windlake Tale."
A lot of people unfairly write this band off as Bodom clones, and it's really unfortunate when they put out such amazingly dark and heavy records like this that really set them apart. If anything, I feel that this record will continue to appease Kalmah's core fanbase who've stuck it out since the beginning, but with it's perfect mixjob (except for some questionable leveling of the opening melody of "Wolves on the Throne") where everything comes through crisp and clear (or as crisp and clear as a band as loud and agro as this likes to get), it can be an easy-to-get-into album for those still uninitiated.
Raise a horn of mead to the swamplords...they did it again!
METAL IS LIFE!
www.spinefarmrecords.com
www.kalmah.com