IN SOLITUDE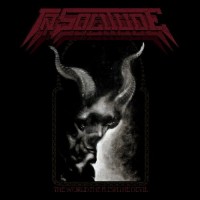 "The World, The Flesh and The Devil"
By Dr. Abner Mality
For years, the one band that nobody seemed capable of emulating was Mercyful Fate. But in the last couple of years, an onslaught of Fate-inspired bands have arisen, mostly from Sweden. This year has already seen the excellent Portrait debut on Metal Blade with "Crimen Laesae Majestatis Divinae" and hot on their heels we have In Solitude with "The World, the Flesh and The Devil". Man, I thought it would have been impossible to beat out Portrait but these witch-cursed Scandinavians may just have done it.
This record really could have been the sequel to Mercyful Fate's "Don't Break The Oath", it's that good and it overflows with that kind of atmosphere. This is a dark, mournful record full of epics that ooze a genuine occult feel. The pace is generally quick and galloping and while old Fate is surely a huge influence, Di'Anno-era Iron Maiden and classic Angelwitch also cannot be denied. The quality of the riffs and the way they flow so naturally is devilishly addictive. In Solitude knows just when to cut loose with Schenkerized soloing or when to pull back with a foreboding acoustic approach. Raccoon-eyed vocalist Pelle Ahman is probably ready to shoot the next guy that compares him to King Diamond, but I'll have to make myself a target. He totally embodies the otherworldly sadness of King's lower register singing while ignoring the falsetto shrieks. That voice is the perfect accompaniment to these evil yet melodic tunes.
All of the tracks here are hypnotic and compelling, but album closer "On Burning Paths" is the true classic...majestic galloping riffs and unparalled atmosphere. It's one of the "can't miss" cuts of 2011. In the battle between Fate-inspired bands, I give the edge to In Solitude by just a hair!
www.metalblade.com
www.myspace.com/insolitudeheavymetal