HOLY GRAIL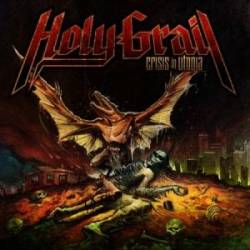 "Crisis In Utopia"
By Dr. Abner Mality
This Holy Grail is not found in the green hills of England, the dusty deserts of the Middle East or even Castle Anthrax (though a grail-shaped beacon has been seen there!) but instead in the Sacred Land of Southern California. Although not used at the Last Supper, this Grail instead delivers a feast of heavy metal to the faithful!
Prosthetic Records continues to expand their sound by signing this outstanding "true" metal band. Not since "Advance and Vanquish" by 3 Inches of Blood or the sadly ignored "Eleutheria" by Antiquus have I been so excited by an American group. Holy Grail contains three former members of fellow true metallers White Wizzard and while I like White Wizzard quite a bit, I have to be honest and say that Holy Grail has come up with the better album on all counts. "Crisis In Utopia" has the kind of variety that allows an album to flow very well. There's bracing speed metal in the form of "My Last Attack", "Fight To Kill" and "Cherish Disdain", a bluesy stomper with terrific melodies in "Call To Valhalla", a classical instrumental in "Noctune in D Minor" and almost Candlemass-style doom with "Requiem". Each of these is performed with precision and heart.
Vocalist James-Paul Luna has a GREAT raspy voice that has just the right mix of grit and melody. He's not a screamer in the classic Halford sense but has an uncanny knack of knowing when to pour on the coal and then lay off. Throughout the album, there are a lot of cool catchy vocal hooks to grab your ears and that's something that's the mark of a great metal band. "Chasing The Wind" is power metal in the true European tradition minus a lot of cheese while "Immortal Man" takes me back to the classic days of Omen and Attacker. At certain points, their influences become a bit too obvious, but with time, that is going to take care of itself.
Prosthetic scored a big coup when they hooked up with these guys and "Crisis In Utopia" will sate the thirst of all honest metalheads. Even Arthur, King of the Britons, will be rocking when he finds this Grail!