HOLLOW HAZE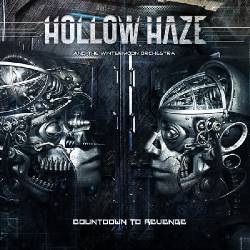 "Countdown To Revenge"
By Colonel Angus
Here I have another band that has been around for quite a few years that somehow did not make it onto my radar.  Then again, maybe I heard some of their music but it happened to not be memorable.  Either way, this release on Scarlet Records is not going to make me look up their earlier releases.  Let me start off by saying that I do listen to all of my "review" product with an open mind.  Now that "open mind" has degrees.  Like anyone else, I sometimes can't escape the tendency of comparing it to previous releases by the same band.  That being said, I listened to "Countdown To Revenge" without any prejudice and I have come to the conclusion that while competent, it doesn't contain that "x-factor" that makes me want to listen to it multiple times.  I did in fact spin this album about a half dozen times to see if this one would grow on me but it fell short. 
So, basically this record consists of 9 songs not including "Room 212" and "The Gate To Nowhere…" which are basically an intro and outro to the disk.  Almost every song starts off with a symphonic type intro which would be fine if it was a song here and there but it was on almost every track.  It starts to bring in a very monotonous feeling to "Countdown To Revenge".  As mentioned earlier, the songs are all competent with some track almost  hitting the mark – almost.  Songs like "The Answer" (that would be my pick for best song on the album), "We Must Believe", and the Dream Theater-ish "Life Has No Meaning" all have the right ingredients but something is still missing.  Fabio Lione has a great voice and he does make the most of his vocal abilities on this disk.  Nick Savio also does a great job of coming up with some heavy riffs and some tasteful solos.  The rhythm section of Dave Cestaro (bass) and Camillo Colleluori (drums) are as tight as you would expect for this type of euro/symphonic/power metal.  Which can only mean that the songs don't really stand up to the test.   Maybe on their next album these guys will incorporate that "x-factor" into he music but in the meantime,  I probably won't be listening to this record.
www.scarletrecords.it
www.hollowhaze.com