HALFORD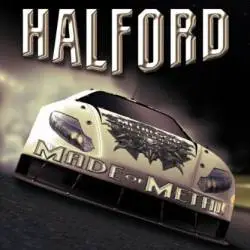 "Made of Metal"
By Dr. Abner Mality

Even a god needs to catch a break once in a while. And of course, there's no disputing that Rob Halford is the one and only METAL GOD. He means so much to the metal genre that we can excuse some bumps in his career. And I'm afraid that's what we'll need to do with "Made of Metal".

I am glad to see that Rob has not given up his excellent solo band, but "Made of Metal" is not the same caliber as the last Halford album "Crucible", which was one of the very best things he's ever been involved with. It lacks the fire and heaviness and seems slick and superficial in comparison. Plus, it really should have had at least 3 songs dropped from the end result...this album is way too long. Is it a complete waste of Rob's talents? No, not at all...it actually starts pretty strong with two fast and catchy tunes, "Undisputed" and "Fire And Ice". The arrival of cheesy "Turbo"-style vocorder vocals on the title track is the first sign of trouble and by the second half of the album, we get bland filler like "Hell Razor", "Twenty Five Years" and the really awful "Thunder And Lightning". How this last tune made it onto the album is a mystery, but it's a boring embarassment. Rob's vocals are not as immense as we're used to, but still, the man is incapable of a bad vocal performance. It's just mediocre material that lets him down.

Some of the better tunes would be the very bluesy and grinding "Till The Day I Die", the unusual Spanish-flavored "Matador" and the very heavy "The Mower"(where he really gets to unleash some rabid screams) but I don't know if any of these match the best of "Crucible". "Made of Metal" is not a terrible album, but I really expected more.