GANDALF'S FIST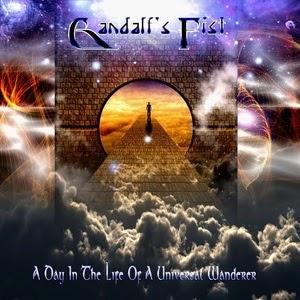 "A Day in the Life of a Universal Wanderer"
by Dark Starr
These guys have done it again. Their last two albums topped my "best of" lists for the years in which they were released. I think this one will probably do the same thing. Each album is different and this time they tackled space rock. Space rock is one of my favorite types of music, and I like this. Rather than just follow the Hawkwind school of sound, they bring a lot of variety and different sounds to the plate. All of it, though, follows a path that tells a story of space travel. The lyrics to this concept album are all about space and the music feels suitably spacey to go with it.
I find the best bands are the ones that can combine both hard-hitting and mellow sounds without having one side overwhelm the other. Gandalf's Fist is an absolute textbook example of how to do this well. I'd bring your attention to songs like "The Nine Billion Names of God" (with echoes of Pink Floyd), "A Universal Wanderer" and the album ending "The Wanderer Goes South", where the flow between the different elements is beautfiully realized. Although there are some crunching almost metal moments throughout, the music is the very essence of spacy prog.
Gandalf's Fist is one of the best modern progressive rock bands. At least they sure manage to please me time and time again.
www.gandalfsfist.com