FOCUS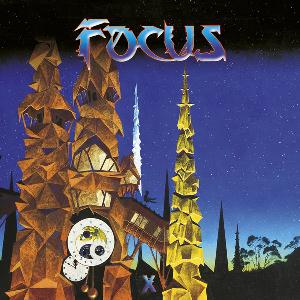 "X"
 By The Great Sun Jester
 Returning after a six-year hiatus, underappreciated Dutch prog rock masters Focus return with a new release entitled X.  The warm, layered production gives the album a confident sound, but sonics aren't the whole story. The band has assembled a largely instrumental collection, but those songs demonstrate the same creative spark that has sustained the band and its individual members through the years.
 The opener, "Father Bachus", is a simplistic, but creative, mishmash of converging styles. We get the full gamut - healthy doses of keyboards, drums, guitars, flute, pounding bass, and it is delivered with such rousing energy that you forgive it any of its deficiencies. The moody, meandering jazz stylings of "Focus 10" finds the band on familiar musical ground, but there's a slight dissonance that stops things from ever becoming too comfortable. The band turns "Victoria", ostensibly a rather traditional pop ballad, into a jerky jazz breakdown in the song's final minutes. The rumbling "All Hens on Deck" is a much more focused example than the album opener of the quality up-tempo numbers the band produces. Great guitar works abounds on this track, but top shelf drumming is the engine propelling this song forward.
 "Hoeratio" is a convincing rock song with great theatricality and intelligence. Menno Gootjes' guitar work isn't flashy, his style on a tune like this demonstrates his restraint, and keen sense of what serves a song. The album's finale, "X Roads", illustrates the failure of the song immediately preceding it - the band's instrumentals on this album frequently aspire to larger musical canvases that invoke a variety of moods. On the weaker instrumentals, like "Message Magic", they rely a little too much on cliché, but most importantly, fail to utilize their strongest musical weapon, Gootjes's guitar playing, as little else than ornamentation. However, "X Roads" avoids that by giving the band's guitar room to shine. Great vocals contribute to the album's single best track.
www.fourworldsmedia.com
www.focustheband.com