EVERGREY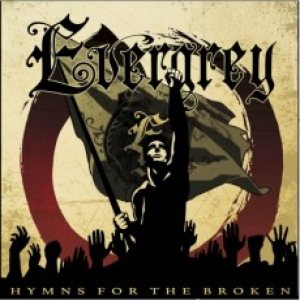 "Hymns For The Broken"
By Colonel Angus
I have been afan of Evergrey ever since I was turned onto them by a friend.  The album that started it all for me was "In Search Of Truth".  For fans and critics alike, that record has been considered their "Operation: Mindcrime" (Queensryche disk for those who don't know the reference).  While I can see the reasoning behind that, I feel it is unfair to base all my judgments on that CD.  When I look at their back catalogue,I see many worthwhile albums like "Recreation Day", "The Inner Circle", and "Glorious Collision" so while others keep judging everything by the standards of "In Search Of Truth", I like to keep an open mind to all new Evergrey records.  Many fans thought that the band may have lost it with "Monday Morning Apocalypse" and "Torn" because the band set such high standards with previous releases. 
All of this brings me to their new disk "Hymns For The Broken".  The best word I could use to describe it would be "epic".  From the start of intro "The Awakening" to the final sounds of "The Aftermath", the album takes the listener through an aural ride of all the best elements of Evergrey.  Many of the tracks have that prog metal vibe but they stay true to their roots and don't extend songs to their breaking point. All of the tunes have a catchy hook that will have you humming them for hours.  Even when the band try their hand at a ballad ("Missing You"), they manage to make it epic without being cheesy.  There is not a filler tune on offer here.
The band has gone through line-up changes again.   Gone are Marcus Jidell and Hannes Van Dahl being replaced by Henrik Danhage (guitars) and Jonas Ekdahl (drums).  Rikard Zander (keyboards) and Johan Niemann (bass) return for the "Hymns For The Broken". Obviously leader Tom S Englund is on board sounding better than ever.  He has not lost any of the power or passion in his voice.  The band sounds great but since there have been so many member changes, it is safe to say that as long as Englund is running the ship, you will always get a quality release.  He surrounds himself with great musicians and these new members have done the legacy proud.  As well as a line-up change, the band have also changed labels.  AFM is releasing "Hymns For The Broken" and having Evergrey onboard at AFM will only add to their already impressive roster. 
The band have spent the last 16 years releasing CDs and I have to say that I am pleasantly surprised that they are still releasing great music.  For those who continue to bring up "In Search Of Truth", you need to grab a copy of "Hymns For The Broken".  It is right up there with that record.  Seriously.  By far, this is my album of the year.
www.afm-records.de
www.evergrey.net