THE DOGS DIVINE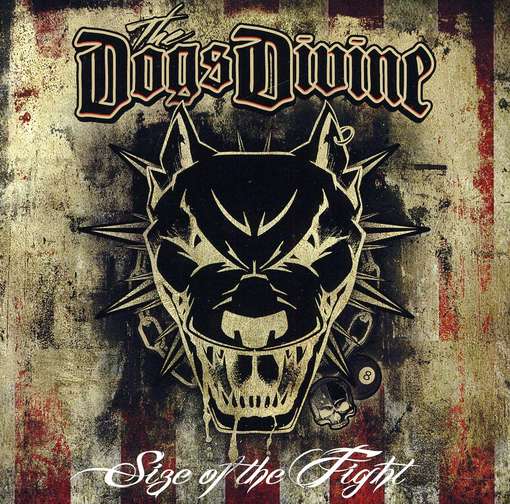 "Size Of The Fight"
By Dr. Abner Mality
It's been a mighty long time since I've heard a hard rock/sleaze metal record with as much bite as this. The Dogs Divine are a special breed that's half pit bull, half purebred greyhound and they are gonna give you a big time chomp on the ass with "Size of The Fight".
I pride myself as being a metal conneisseur who's into many genres, including what is known in some quarters as hair metal. But I do have my standards. Skid Row and Guns N' Roses...yes. Poison and Bon Jovi...no. Now the Dogs Divine have a strong late 80's flavor to them, but their approach is timeless in its appeal. There's a a lot of grit, attitude and heaviness here, but also some real surprises that kick the album up to a higher level. It's a well-rounded beast, a hard critter to find in these days when albums mostly sound like the same song ten times over.
"Dogs" kicks things off with a pounding metallic snarl and I'm immediately reminded of the Skid Row "Slaves To The Grind" album. Yup, it's that good, and gravel-throated vocalist Tom Hart is a real find. This guy tears it up with his raw, bluesy approach throughout the length of the album and has the feel of a star in the making. The album has a lot of catchy, muscular riffers like "Join The Crowd", "One and Only" and the whisky-drenched "Hell Won't Have Me", but as said before, the Dogs pull out some unexpected surprises. The acoustic based "Gypsy King" is some real authentic blues with nasty slide guitar and Tom Hart sounding even more pissed than usual. You don't hear many like this anymore! There's also an awesome cover of Queen's "I'm In Love With My Car" that beefs up the metal quotient of the song while staying faithful. "Gussie" is a quite beautiful and sad instrumental ballad featuring very melancholy fiddle playing...amazingly well done.
The album ends with another effective power ballad, "One For the Ages", but I think I might have ended the album with something a little harder.
"Size of The Fight" ROCKS all the way through. I haven't enjoyed an album such as this in a long, long time. It's a shame this won't get the huge success it deserves...see if you can help by throwing these Dogs some bones!
www.myspace.com/mortalmusic
www.myspace.com/thedogsdivine