THE CUSTODIAN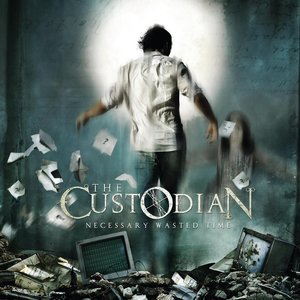 "Necessary Wasted Time"
By Colonel Angus
I don't know much about this band other than leader Richard Thompson having fronted another progressive metal band called Xerath.  The Custodian was formed in 2012 so there probably isn't much of a back story anyway.  Most of the time, I like to listen and review a record on its own merits and not try to compare to previous works.  Sometimes it's difficult if the band and I have a long history but I try to stay objective.  Since I have no idea about The Custodian or Xerath, I listen to Necessary Wasted Time with virgin ears.  My initial reaction is that this album is definitely more on the progressive side and less metal which suits me fine.  I was always a fan of 70s progressive rock and I still find myself gravitating to those records like Rush's A Farwell To Kings, Genesis' Selling England By The Pound, and Yes' Close To The Edge.  Necessary Wasted Time fits nicely into group of 70s progressive classics.  Many of the tunes here have that organic and free flowing feel that 70s prog groups perfected.   If you listen closely, you can hear all of the influences of Yes on "Things We Tell Ourselves" and Rush on "Stop Talking".  Other songs of note are "The Sun Is God" which has a great Marillion vibe and the title track which has a number of twists and turns but somehow still keeps things cohesive and interesting.  All of the songs have acoustic guitar as the main focal instrument and the drums, lead guitar, and even the vocals go on top to fill out the sound.  That formula starts with opening track "The Man Out Of Time" and continues throughout the whole album.  That may sound one-dimensional but each cut is a piece of the final puzzle that is "Necessary Wasted Time".  By today's standards, the album is shorter clocking in at around 50 minutes but on the plus side is that each cut is worthy of being featured.  There is not a bad song on offer and in my mind, I would much rather have a shorter release than to extend it by 20 minutes and have the additional tracks ruin the overall record.
The Laser's Edge is releasing this piece and judging by their roster, they are a smaller boutique label.  No longer do bands need a large label to release their music and these boutique labels do a better job of getting the word out about bands and their releases.  Years ago a band like The Custodian would have gotten lost in the corporate shuffle but by having a label like The Laser's Edge, they managed to even get the attention of this lowly writer.  As mentioned before, this band is led by Richard Thomson on drums, vocals, and synth.  He gather a few very talented musos to get this vision on disk; namely Michael Pitman on bass and vocals, Owain Williams on lead guitar, and Nariman Poushin on acoustic guitar.  These guys may not be part of the "known" prog world like a Steven Wilson or Marillion but I think that may only be a matter of time.  Since progressive music has seen kind of a rebirth as of late, it is refreshing to hear music that has more to do with the original 70s prog bands like Rush, Genesis, and Yes and less like Dream Theater and Opeth.  While I like those bands too, I find that more musicians are modeling themselves after the newer prog metal genre and avoiding the subtleties of the older groups.  That is one of the main reasons that I find "Necessary Wasted Time" so appealing.  Do I think this release is for everyone? Certainly not.  There are no "singles" or radio friendly cuts.  You can put this disk on as background music while doing other things but you would be short-changing both yourself and the record.  "Necessary Wasted Time" really blossoms when you give it your full and undivided attention.  After a dozen listens, I am still hearing new things with each additional spin.  And that, my friends, is the sign of great, long-lasting music.
www.lasercd.com
www.facebook.com/wearethecustodians