ARGUS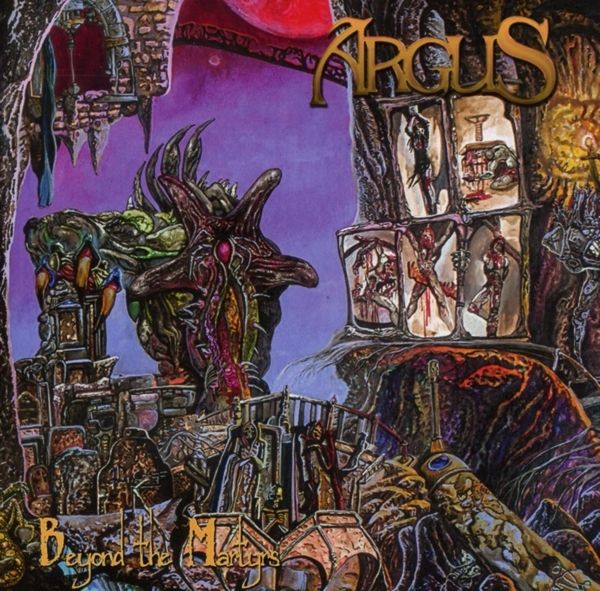 "Beyond The Martyrs"
By Colonel Angus
I'm always interested in hearing new music and being able to review album and concerts has given me the opportunity to discover many new bands.  There is so much out there now that it becomes difficult to navigate through all the releases to find worthwhile music but some bands do make their mark.  One of those new (at least for me) bands is Argus.  "Beyond The Martyrs" came across my desk (metaphorically) courtesy of Crus Del Sur Music and I have been spinning it (again, metaphorically) ever since.  These guys hail from Pennsylvania which gives me a sense of pride because I know we don't always have to look across the pond for great bands.  We have a bunch of bands here in the states that produce music that still gets me excited about the metal scene.
Argus, for those newbees like myself, are a five piece that straddle the line between doom and early Iron Maiden (think Di'Anno era).  Erik Johnson and Jason Mucio provide the Iommi-esque riffing along with a healthy dose of tasteful solos.  They put those guitars over a very capable rhythm section.  Kevin Latchaw (drums) and Andy Ramage (bass) really give that Maiden feel by playing in that galloping fashion.  Over all of that traditional metal music, you get Butch Balich who has a style that fits perfectly with the band.  Although his vocal performance is not that varied, his contributions to "Beyond The Martyrs" makes it somewhat unique.  All in all, for a band that is not re-inventing the wheel, they have still managed to produce a very enjoyable record.
Now, I'm sure by this point, you are asking "What about the album itself?"  Well, you get 8 tracks that clock in at almost 45 minutes of pure doom/NWOBHM enjoyment. The only track that seems too short is "Four Candles Burning".  The rest of the tracks are a little weightier and have less of a "this is the single" about them.  While most bands put their best material early in the disk, Argus almost did the opposite.  The trifecta of "The Coward's Path", "Cast Out All Raging Spirits" and the instrumental title track are just as powerful as the opening moments which makes Beyond The Martyrs a very consistent record.  I also have to say that I like the production of this release.  It has a very old school feel and it brings me back to my youth when my whole world was metal music.  Some people may listen to this disk and complain that the production is not very modern sounding but I think that if you were to produce it like many of today's records, you would be stripping it of it's essential charm.
In a year that has already produced many great album, I can't say that "Beyond The Martyrs" will be in my Top Ten of 2013 (sorry guys) but you are definitely not that far from behind.  I think the band has done a great job with this record and I can definitely see myself playing this one way into 2014 (and beyond).  Since this record has opened my eyes to Argus, I will make sure to get their other releases.
www.cruzdelsurmusic.com
www.argusmetal.com