THE ANABASIS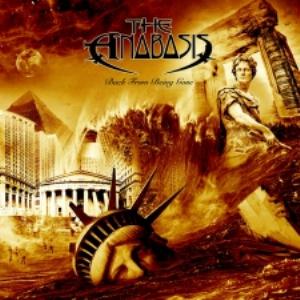 "Back From Being Gone"
By Dark Starr
This is a killer album. It's a concept disc with three epic length pieces and several others that are still respectable in terms of length. The musical styles wander between progressive rock and AOR based hard rock along with some metal. It starts off a little less than stellar, so stick around after the first opening section of "Rome". It's not that that part is bad, but it doesn't really foreshadow that power that's to come. The first of the album's epics, it moves from a deceptively mellow acoustic beginning to some very metallic jamming and cool keyboard-driven prog rock. The AOR influences come out in tracks such as "Fly" and "Carpe Diem", but it's huge epics such as "Vikings" and "Egypt" where the band shows their intense musical chops, moving with great ease from style to style and conjuring up truly massive hard-edged prog.
The lineup alone here is impressive from keyboardist Ryo Okumoto (Spock's Beard) to Per Fredrik "PelleK" Åsly (Damnation Angels) on lead vocals, Gerald "Mully" Mulligan (The Lee Abraham Band) on drums, Gordon Tittsworth (Images of Eden, All Too Human) on lead and backing vocals, Lee Abraham (Lee Abraham Band) on bass and Stefan Artwin (Relocator) on lead guitar. Numerous guests round out the lineup. But it's the music that sells it, and it certainly does that.
www.10trecords.com
www.theanabasisproject.com