MASTER : "Defiant To The End"
By Dr. Abner Mality
"
Old age should burn and rage at close of day;  Rage, rage against the dying of the light. Though wise men at their end know dark is right..
."--Dylan Thomas
I have to believe Welsh poet Dylan Thomas was thinking about Paul Speckmann when he wrote the famous verse above, a portion of "Do Not Go Gentle Into That Good Night". For nobody is less gentle and more full of rage than Speckmann, the man behind the hugely influential death metal band Master. Instead of being beaten down and capitulating to the madness and corruption around him, Speckmann is fighting back against the world with all the anger he can muster. And his weapon of choice is the brutal music of Master...
Weary arguments have raged for years about who the creator of death metal is. I'm not going to weigh in on that, but nobody can deny Speckmann is one of the forefathers. As Death's Chuck Schuldiner got more progressive and technical, Master has gotten faster, more primitive and more devastating. The culmination of that brutality is the latest album "The New Elite". The rage that powers "The New Elite" comes from Speckmann's increasing contempt for his fellow humans, whom he sees throwing their independence away for lives of blind obedience.
Paul's own independence has led him to move to the Czech Republic, where he wages his sonic war on mankind. Still a proud American at heart, he is really a citizen of the world. I've spoken to him before, but it's always a pleasure to bask in the blaze of Mr. Speckmann's defiance. Read on and get an education in revolt... 
WORMWOOD CHRONICLES: The title of the new Master release is "The New Elite". Does this refer to those who rule us in secret or those who stand up to them? Or does it mean something different yet?
PAUL SPECKMANN:  It's self explanatory... you only need to read the lyrics from the song "The New Elite".The new elite refers to the rich politicians that rule the planet. As time goes on, the governments, the banks, and the rich are taking over. People go to work and support the greater human machine. Freedom is becoming a thing of the past as the youth of today lay down and take it. It's time for a revolt in society to spread the wealth and power to the masses ,not just a handful of assholes. It's time to stand up and be counted, people! They tell you what to buy, when to shit and when to sit back and watch with your remote control. There's food for thought in all the songs on "The New Elite"! 
WC: This new record sounds like the angriest record you've done in your 30 year history. Is it the general state of the world that fuels the anger or something more specific?
PS: The world around us dictates every recording we have ever done. All records of Master are fueled with anger brought on by life's situations. We live in an angry aggressive society and this comes out in the music. All the bureaucratic shit that revolves across the globe fuels the music. This time my thoughts were captured perfectly on the new CD. Sometimes recording budgets are better, producers are better etc. We put the same energy in everything we record, but like with anything ,sometimes records come out better than others. 
WC: I have never heard a clearer yet more brutal sound from Master than on "The New Elite". What was the difference in how this was recorded and is this the sound you've been aiming for all the time?
PS: We record every record the same way. As the band progresses the studio does as well, as they improve with age like a fine wine. We aim for the most aggressive sound possible without any studio tricks. Things are recorded naturally. This time we spent a  bit more time on the mixing and mastering. The record was remastered 5 or 6 times until it was satisfactory for our ears. 
WC: You're living in the Czech Republic. Does the sense of impending battle against the ruling powers seem as strong there as elsewhere in Europe?
PS: Actually, there is quite a  bit more freedom here in the Czech Republic and across Europe in general when compared to the United Staes, but control is still happening in every part of th world. It's only a matter of time before America comes here. The Czech Republic is always great friends with the US presidents as they want a piece of the action. We're all living in America ,as the Germans stated so well in the popular song. 
WC: Are people really ready to "Rise Up And Fight" or will they remain sheep?
PS: They will continue to enjoy being told what to do and making no waves until they're all herded to the slaughter. This is human nature. People don't like to think for themsleves they prefer to be told what to do, it's much easier to follow then to lead! 
WC: The narrative of "Twist of Fate" seems to end with a call for suicide. Is that strictly the character of the song speaking or is it something you sometimes feel yourself?
PS: Actually the song is about the UK riots. Suicide is the easy way out, I would never take my own life... too many things to write and teach the youth about! 
WC: You have to have a lot of pride in maintaining your brutality over the years while others have drifted away. What are your feelings about keeping up the struggle?
PS: Life for Master and myself has always been a struggle but I was raised to fight and I will always fight the good fight every moment as Triumph stated so well in the song of the same title. The rewards have come over and over with the struggle. I travel the world at others expense and get to share my thoughts and ideas across the world. It's not always easy, I suppose,  continually travelling, but I still enjoy it! 
WC: Are there times when you look at certain aspects of modern extreme music and wonder "did I have a part in creating this nonsense"? I'm talking about stuff like goregrind and deathcore.
PS:  No. 
WC: You seem to have found great partners to work with in Zdenek and Alex. How have they contributed to "The New Elite" and modern day Master in general?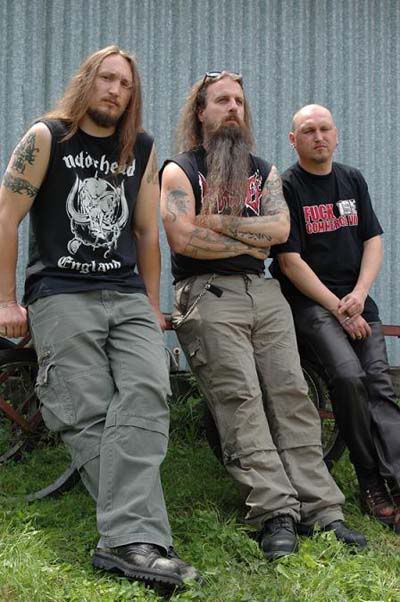 PS:The guys are both younger and sometimes we see things differently. Sometimes I write  song like "Rise Up and Fight", for example, and I honestly thought the music may have been too soft, and the guys loved the track, as the critics and people do as well. So I cannot always see the big picture in every track, and I need a different opinion and this often comes from the younger players. When we write songs I bring complete songs to the drummer and he and I put the songs together. The guitarist comes in later and I teach him my songs and we go from there. Alex always brings in a few songs as well and I usually help him with arrangements and sometimes make a few changes for the better and we go from there. I write all lyrics as always. Zdenek and Alex are  big part of my life as well as the songs. After 9 years of playing together ,we are a  family and are busy together every year and it helps to have a  strong unity! 
WC: The song "Guide Yourself" has a curiously positive title. Is it a call to anarchy or a plea for self-awareness.
PS: Yes, belief in oneself is th most important thing in life as far as I am concerned! The false religions and beliefs in nonsense seem to dictate the mindset of the people of the world today. We live in a sick brainwashed society. 
WC: What's the meaning of the song "New Reforms"? What kind of reforms are you advocating here?
PS: Not advocating any new reforms... it's just the opposite! Crush the new reforms and think for yourself! 
WC:  Do you foresee an end to Master...a time when you won't be able to muster the necessary anger and energy the band deserves? Or will it last as long as you do?
PS:  This band wil last as long as I do. Are you kidding?  Look at Lemmy... he still struggles but marches on. I will do the same, young man! 
WC:  Master has always been a passionate political band since Day One. What in your opinion would be necessary to reverse the world's downward slide...if it can be reversed?
PS: Power to the people is the answer, not power over the people as we experience regularly! 
WC:  Do you ever get homesick for the Chicago area or is that something you're totally over? I must say that the Chicago metal/punk/extreme scene seems to be as strong as it ever was now.
PS: After leaving America and standing on the outside looking in, my eyes were opened for sure. No, I don't miss the control of the USA! I always laugh at the remarks I get when people who are afraid to leave their own backyards respond to this. There is a really big world out there and sometimes you need to see things from the other side to truly understand what's going on in other parts of the world, the USA included. I am first and foremost an American and will always be proud of this but the ideology is a bit fucked up over there. 
WC: Are there any plans for more releases in connection with your other projects such as Deathstrike, Abomination, Speckmann, etc? Any buried treasures from the vaults, unreleased tracks, live performances?
PS: No 
WC: You are quite an authority on the world extreme music scene. Are there any acts you would recommend or that we should watch for?
PS: I only concern myself with Master. Bands send me shit to listen to all the time and I honestly hardly ever listen to anything. I prefer old Rock and Heavy Metal nothing else. 
WC: If you could ask any 3 people from history to dinner, who would they be?
PS: Vincent Price, Ian Gillan and Geezer Butler! 
WC: Any live plans for 2012 and beyond?

PS: Here you go...

September 9th Master Blue rose Saloon, Bresso (mi)


September 10th, Master- Lyss Kufa Carnage Feast, Switzerland


September 11th, Master La Rumeur, Lille, France


September 12th,Master Tilburg (Holland) Little Devil


September 13th, Master Brussel DNA club, Belgium


September 14th, Master Tannheim-Egelsee Club Schwarzer Adler, Germany


September 15th, Master, Lyss, Switzerland Carnage Feast


September 29th Master, Vortex Club,  Siegen, Germany



October 5th Abomination- Skullcrusher- Dresden, Germany

Master and Dehuman Tour

October 6th De Buze Club, Steenwijk, Holland

October 7th@ Elite of the dead fest Oostende, Belgium

October 9th @ Heretic Club, Bordeaux, France

October 11th @Traffic Live Club. Rome, Italy
October 12th @ Controsenso Club, Prato (nearfirenze) - Italy

October 13th @ Kulturcafé Schlachthaus Dornbirn, Austria


October 19th Master Master @ Schlachtfest (Metal Night X) in North Germany


October 26th Truckstop Alaksa, Göteborg, Sweden


November 3rd Master- UNITED FORCES FESTIVAL, Osterode/Harz (am Harz), Germany


November Brazilian Trek-
Master

15.11 – TBA

16.11 – Porto Alegre/RS (Brasil) @ Beco

1
17.11 – Belo Horizonte/MG (Brasil) @ Music Hall


18.11 – São Paulo/SP (Brasil) Carioca Club


Master Tour November 22nd Nov to 1st of Dec


November 22nd, K17 Berlin, Germany

November 28th,  Sudterranea, Napoli, Italy


January 12th 2013- Master-HARDMETALFEST - PORTUGAL


January 26th BOGOTA, Colombia

January 27th PEREIRA, Colombia


March 2013 USA tour
"NORTH AMERICAN DETONATION TOUR" 
MASTER + SACRIFICIAL SLAUGHTER + TBA

Fri. March 1st - Los Angeles, CA

Sat.March 2nd - Sacramento, CA

Sun.March 3rd - Portland, OR

Mon.March 4th - Seattle, WA @ 2 Bit Saloon

Tue. March 5th - Boise, ID

Wed.March 6th - Salt Lake City, UT

Thu. March 7th - Cheyenne, WY @ Forum 619

Fri. March 8th - Manhattan, KS

Sat.March 9th - St. Louis, MO @ Fubar

Sun.March 10th - Madison, WI

Mon.March 11th - Chicago, IL

Tue. March 12th - Cleveland, OH

Wed. March 13th - Albany, NY @ Bogies NY

Thu. March 14th - Boston, MA @ Radio
Fri.
March 15th - Brooklyn, NY @ Saint Vitus Bar

Sat. March 16th - Philadelphia, PA

Sun. March 17th - Baltimore, MD @ Sonar

Mon March 18th - OFF DAY -

Tue. March 19th - Nashville, TN

Wed.March 20th - New Orleans, LA

Thu. March 21st - Little Rock, AR

Fri. March 22nd - Oklahoma City, OK

Sat. March 23rd - Ft. Worth, TX

Sun. March 24th - Austin, TX@ Dirty Dog 

Mon. March 25th - Midland, TX @ The Pinebox

Tue.  March 26th - El Paso, TX

Wed.March 27th - Tucson, AZ

Thu. March 28th - Phoenix, AZ

Fri. March 29th - Mexicali, MX

Sat. March 30th - Corona, CA

Sun. March 31st - Las Vegas, NV

Mon.April 1st - Fullerton, CA @ The Slidebar Rock N Roll Cafe 
WC: Last CD you got just because you wanted to hear it?
PS: Best of Rory Gallagher 
WC:  Last gig you saw just because you wanted to check out the band?
PS: Krisiun, Malevolent Creation and Vital Remains here in Uherske Hradiste. 
WC: In the long career of Master, is there any "Spinal Tap" moment where things went crazy that you could share with us?
PS: Sure! We were on our way to Finland and the fill in drummer Peter Bajci got lost in the airport after drinking too much slivovice in the morning with us and we missed the plane to the first show of the weekend and had to fly the next day! Then the volcano stalled us after the two shows we managed to play in Finland and the flights were cancelled and it took four days on boats, buses and trains to get home from the nightmare weekend. Total Spinal Tap. 
WC: Any last thoughts for the faithful?
PS: Sure! Support the band and forget about illeglly downloading the new CD as it's free, of course!
www.myspace.com/masterspeckmann