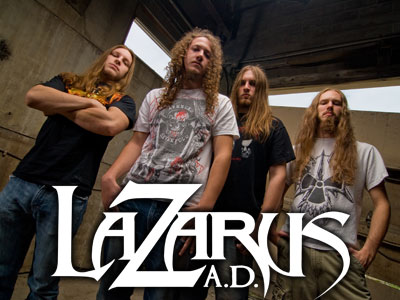 Lazarus A.D. - Nothing Can Stop The Onslaught!
Interview with: Jeff, Dan, and Alex - By Joe Who
Kenosha, Wisconsin isn't exactly the first place you think of when it comes to metal. I mean, with the exception of a few good bands that I remember from the past, (Notably; Jungle Rot and Path...) and a couple of "cult" bands, (Morbid Corpses and Die Monster Die, the later being more gothic / punk...) it's otherwise been pretty quiet in that particular area. Well, I'm happy to report some musical activity has picked up and Kenosha is back on the metal map once again, thanks to the cities newest thrash metal sensations Lazarus A.D.
In the few short years of Lazarus A.D.'s career, they've remarkably raised the stakes on a genre that's becoming too over saturated with bands. Wisely realizing that "You never get a second chance to make a first impression", they've opted to custom craft their style with a more modern approach instead of strictly relying on the nostalgia method used by many of their thrash counterparts. The result of their efforts comes through loud and clear on their Metal Blade debut album "The Onslaught". Unleashing a cohesive mix of old and new influences, the band demonstrates brilliantly that the key to longevity is evolution.
I recently caught up with these thrash metal maniacs at their CD release party in Kenosha Wisconsin. Jeff, Dan, and Alex were all kind enough to grant me this interview and discuss their excellent new album...
Wormwood Chronicles: Congratulations on signing with Metal Blade. How did the signing with them come about?
Jeff Paulick: I was driving my car one day and Mike Faley the president of Metal Blade called me on my cell phone. He said
we're very interested in working with you. We actually sent our demo to them a couple of years ago, but at that time we got a response saying they weren't interested and to keep them updated. So we played our cards right, did everything we could, and had the right people get involved. Then basically they called us up, we started working out the deal, and four months later it was all signed and ready to go.
WC: Before you guys got on Metal Blade, you had a song on the "Thrashing Like A Maniac" compilation cd from Earache Records. Was there any interest from them?
JP: We talked to them a little bit about that,but, they said they weren't interested in signing us...
Dan Gapen: Well, it was because they had too many up and coming thrash bands on their label...
JP: Yeah, they said, we're not interested at this point because we have too many bands playing that style right now. We just wanna focus on the ones we have now. It wasn't anything against us, you know what I mean? Then Metal Blade came along, and honestly, I feel really great so far. (Chuckles)
DG: Oh, definitely...
JP: It's a much better fit than Earache anyway. (Laughs)
WC: Plus Earache seems to focus more on Europe...
JP: Yeah, exactly.
DG: Without a doubt.
WC: When did Lazarus A.D. officially start? How did you guys meet each other? What made you all gravitate towards thrash metal?
DG: I'll start with how we met. I met Jeff when I was in fourth grade at a Catholic school. (Chuckles) Basically I hated him for years and years...
JP: (Laughs)
DG: He didn't like me either. Then one day we started talking about music, you know... Metallica and shit like that. I'd been playing guitar for a couple of years, and then I sold Jeff a bass. I hounded him forever and made him into the bass player I wanted him to be! We met Ryan (Shutler - drums...) through other bands that he played in, and then he ended up joining our band. Alex (Lackner - rhythm guitar...) played in this other band called Defy, then he quit them and hooked up with us. So basically we just all got together and started jammin'. I'd say that was probably around 2006...
Alex Lackner: No, it was before that...
DG: Was it? Oh... it was probably around the summer of 2005. And why we play thrash? We just wanted to play in a band with a no bullshit attitude, play fun ass live shows, and put out an awesome cd...
AL: We grew up on all that stuff too... Metallica, Slayer, all that music was obviously a huge influence to begin with.
WC: What's the story with the band name change from Lazarus to Lazarus A.D.? Does the "A.D." stand for anything?
AL: Basically we had been Lazarus for about two or three years... whatever it was. Anyway we find out there's some band out of New York that has the name Lazarus, and they've been together for what? Twenty-five years or some shit like that, and they put out a disc...
DG: Some washed up band...
AL: Yeah. So we got in contact with them, and we were like, Hey listen, is there a chance we can get this name from you? Buy it off you? Anything? And nothing. We got no response for a month or two. Finally all of us, each one of us got a letter in the mail from their lawyer saying, Hey if you don't change the name, we'll see you in court. So that was bullshit, a simple "no" would have done just fine. This was roughly around the time when Metal Blade picked us up. They said, you know what? You guys gotta keep Lazarus in there, let's try to figure out a way. We came up with a few names and ultimately decided on Lazarus A.D. It's simple, straight to the point, just a little thing that we added to it. As far as the meaning...
DG: It depends on our mood...
AL: Well, there's a lot of ways you can look at it. There's the latin version of it, "B.C." before christ, or whatever, and "A.D." which a lot of people mistranslate to after death. If that's how you wanna look at it fine. It kind of has a slight meaning to what we do. Otherwise more meaning to what we do, aside from our music... you could say; "Alcohol And Drugs", "Almost Drunk"...
JP: Anything man. We put it on there because we got screwed. So you wanna make up some cool names, you wanna make up some gay names, whatever, man, we're gonna roll with it, you know what I mean? Everybody just calls us Lazarus anyway.
WC: A debut album for any band is very important. Did you find yourselves being more critical of how you wanted it to sound? Are you proud of the way it turned out?
JP: I think collectively were definitely all proud of the way it sounds, and how it turned out for sure. The album was recorded a couple of years ago. We were young when we did it and even younger writing it. I mean, some of the lyrics on there are from back when we were sixteen,and the music is from when we were seventeen.
So, yeah, it's been a long journey to get this far and having it re-mixed by James Murphy is absolutely phenomenal. It's a good feeling. and the record sounds so good now. You can always go back and say, I could have changed this, or done that differently...
AL: Everybody does that, though, and yeah, once it's done, that's how you got it to sound. But ultimately, it's a great album. We're all really excited about it...
JP: Very excited, very proud, and very happy that it's finally getting out world wide to everybody.
WC: What was it like working with Chris Djuricic? Did he offer any advice, suggestions and input? Did you bounce ideas back and forth? Or did he just let you guys do what you wanted to do?
DG: I would say he mainly let us do what we wanted to do. I guess he gave us some guidance, because it was our first time in the studio. We were a young band, but I mean, in general we produced it ourselves. He might have had a couple ideas here and there, but all the songs were written in stone before we went in...
AL: Yeah, nothing has been changed musically or even lyrically. I mean, he helped us produce some of the vocals just to get it down, but, aside from that, it's all us.
JP: We had two weeks to go in there... we were on a very tight budget, and he knew that. So we went in, banged our shit out, and that's what it was.
WC: You mentioned James Murphy before. How did he get involved with the project? Was that through Chris?
AL: Yeah, definitely...
JP: Yeah, that was initially through Chris. On the original ,James mastered it. So I got to talk with him for a little bit and he really liked the project. Then when we got signed, we decided to have the album re-mixed. Metal Blade had tossed out some names and we said, well, we know James and he said he still really wants to be a part of the project for a good price.
So we went with James, and he did a test mix. Metal Blade loved it, we loved it, everybody loved it... he did a great job. So that's how he still got involved with the project. He wanted to work with Metal Blade, we wanted to work with James, James wanted to work with us, you know what I mean? This works, why wouldn't you do this? (Chuckles)
WC: Which songs on the album have the most interesting themes or stories behind them?
DG: I think "Last Breath" has a pretty interesting story. I wrote that when I was in eleventh grade in English class. I had to write journal entrees at the time, and I was reading Dante's Inferno, and listening to a lot of Slayer. I was like, I can't even come up with evil shit, this is a terrible effort! Then when I used it in a song, it just stuck!
AL: (Laughs) It works though, it fits...
JP: It's funny because that became the song that everyone loved, and when you look at the lyrics, you're like, what the fuck are you talking about? (All Laughing)
WC: Do you and Dan write all the lyrics? Or Is it a band collaboration?
JP: It's me and Dan pretty much. Moreso me, but Dan has a hand in it, too. There's a couple of songs on there that he wrote entirely, and same here. We did some collectively and whatnot, but basically it's me and him.
WC: I detect some melodies and harmonies subtly mixed into your sound. What other influences inspire your music? It certainly can't be just thrash.
JP: For sure! We love everything man...
DG: I listen to a lot of shit. I'm really into... Well, Pantera isn't really too far from thrash! (Laughs)
WC: I hear some Lamb Of God in your sound...
DG: Yeah! Lamb Of God...
JP: For sure!
AL: We're on a big Lamb Of God trip lately!
DG: I like Devildriver a lot, Killswitch Engage, Chimaira...
JP: Yeah, those are all the new influences, metal and whatnot, but we also love classic rock too, you know... just sitting there and jammin'. Especially with some of the melodies and stuff like that. They kind of shine through a little bit, and that's pretty cool. We listen to everything really...
AL: Everything, you name it, we probably listen to it...
JP: Except for country...
AL: Oh, yeah, fuck that!
WC: How much time do you guys devote to practicing?
JP: Back in the day, four times a week, three or four hours a day...
WC: When I see you guys play live, your always so tight... it's like... wow!
JP: Yeah, and that's not an easy feat sometimes, you know what I mean? We'll come back from doing shows, and we'll get lazy, and don't wanna practice. Then you gotta get back in the groove, you know? Say we come back and we haven't practiced for a month, everything is gonna be out of whack. It's not like we're sucking, but to be that tight and perfect, you really have to play a lot for sure...
AL: Plus we know that, too. When we get back, we know it's not gonna be exactly on cue...
DG: We're editing ourselves knowing that we sound like shit...
JP: We gotta be the best because there is no other way. (Laughs) Whatever that takes, it takes.
WC: How much practice did you guys do to prepare for the recording of the album?
AL: Oh, a lot actually. We toured just prior to that, too...
JP: Yeah, we came back for a month and just practiced everything all day. We practiced everything and made sure it was tight. We went over every song a million times, just to make sure of that. Because like I said, we were on a budget, it was our money, there wasn't a record label, or anything like that. We said, we gotta do it right, and it's gotta be perfect. So we just practiced everyday and made sure everything was as tight as it could possibly be.
WC: What's your thoughts on these guitar oriented video games? Do you think they inspire people to learn how to play an insturment?
DG: I think they inspire people to look into music that they might not have otherwise checked out. Because I think the guitar is a really important insturment just in terms of Rock'N'Roll, Metal, and everything in general. They say it's opening up the kids minds to more bands that aren't on the radio, that are a lot more talented and better. I personally don't like them because they suck! I can play that shit for real. (Laughs)
JP: It's cool, like he said, it's opening kids up to something that they might not have seen before, you know what I mean? At the end of the day, it's helping music.
WC: I don't really follow that stuff at all. Do they have a lot of thrash songs on there?
DG: Oh, yeah! They have Anthrax, they have Slayer, they have old Metallica, they have a lot of shit...
JP: The Metallica one that's coming out, it's straight up metal songs... everything's metal...
WC: A guy I work with was telling me the Dragonforce songs are pretty crazy...
JP: We're not big Dragonforce fans...
WC: Yeah, neither am I.
(All Laughing)
WC: A highlight for me when I see you guys play live is "The Onslaught pt 1 and 2" I was wondering, did that start out as one long epic thrash song and then you decided to break it down into two songs?
AL: I think we wrote the second part first...
JP: For sure! Part 1 was written first... Well, part 2 was just a song. So we didn't have a part 1...
DG: I remember we went back and wrote part 1... right? We wrote part 2 first, went back to write part 1 and we had these recurring chord changes in mind...
JP: Yeah, a lot of the chord changes in both those songs are very similar, there's kind of these themes going on. So that's how we did the part 1 and 2. We actually took that off the new record just because...
AL: Well, we wanted the whole album itself to be "The Onslaught". We wanted to focus on the album as opposed to just
those two songs...
DG: Yeah, not "The Onslaught" within "The Onslaught"! (Laughs) It was a little too metal! (Laughs)
JP: Yeah, exactly. We went back and we're like, man, this wasn't a very good idea! Let's just scratch that out. So yeah, that's what we did, and it turned out good. We like both those songs a lot.
(Confused? Well, don't be. Let me explain... Lazarus A.D.'s original version of the album has two songs on it called "The Onslaught - pt 1 and 2" Part 1 is called "Revolution", and Part 2 is called "Rebirth". The Metal Blade version in stores now has dropped "The Onslaught " plus the part 1 and 2 from the song titles. They are now simply entitled "Revolution" and "Rebirth".... Joe Who?)
WC: The title "The Onslaught"... Is that refering to the power of thrash metal?
DG: To me "The Onslaught" is when you hear the album, and you're like, whoa, that just kicked my ass! It's like an onslaught of music.
JP: For sure! That's pretty much what it is. You know, I catch myself, and I know a lot of our fans do too, once you put it on, you can't stop it. You gotta listen to the whole cd...
AL: I do that everytime. I can't just listen to one song...
JP: And that's what it is, it's an onslaught . No matter what you do, you can't stop it.
WC: I've seen you guys play shows in Kenosha before. I notice there's a few songs in your setlist that you perform that aren't on the album. What are they called? Will those be released at some point?
DG: Good question...
AL: There's only the one...
DG: There's three...
JP: Well, yeah... we do.. I don't know how recently you've seen us...
WC: I saw you guys last November up here at P.L.A.V. (Polish League Of American Veterans... all ages venue in Kenosha... Joe Who?)
JP: Yeah, ok, we did those two new songs...
WC: There's the one song... I was listening really close to the lyrics, and you say, to make the devil cry...
JP: Ok, that's #1, that's the newest one. That'll be on the next record... Well, actually I can't say for sure that it'll be on the next record, but it looks like it will be. (Laughs)
WC: Is that the working title for the song?
DG: No, we don't have a title for that song yet...
JP: When we write songs, it's in the order we write them. So it's #1, #2... that's just how we do it...
DG: Yeah, and then we go back later and just map it all out.
WC: Is that other song called "On The Stage", or something like that?
DG: "Up On Stage"... that one is, yeah. That's like a classic...
WC: It sounds like a straight up rock song...
JP: Yeah, exactly...
AL: It's basically a tribute to that stuff...
JP: That song is really old...
DG: Yeah, we wrote that song back in the very begining of the band. People actually like it a lot...
WC: Oh, yeah, that's a good song , man...
JP: See, that's the thing, with the next record, do we wanna put it on there? Do we not? A lot of people like it, but it has to fit the record. So depending on how the rest of the music comes... if we can put it on the record we will, but otherwise it might just be a "cult" live song, you know what I mean?
WC: And is that other song called "Prevail"? Because I know you mention the word prevail when you sing the chours.
JP: Yeah...Hey, maybe it should be called "Prevail". (Laughs) It dosen't have a name yet, but, maybe it will.
DG: I'm starting to like you! (Laughs)
WC: (Laughing) I enjoy keeping track of setlists when I go to shows. When there's a song I don't know, I really pay attention to the lyrics, and try to figure it out later...
JP: For sure! Yeah, that's the #3 song, and we'll be playing all of them tonight.
WC: Kenosha hasn't had much of a metal scene over the years, however, I'm seeing things pick up steam around here lately...
AL: Yeah, we kind of started it to be honest with you. There was no metal scene before we came along...
DG: Yeah, it was all punk rock, ska, and emo type shit...
WC: I notice a lot of shows out here have mixed crowds, it's mostly punk and thrash bands...
JP: Yeah, and that's why... it's like he said, when we started out, there was nothing around here. Then we kind of destroyed everything. (Chuckles) Basically if we're not playing a show, nobody's gonna be here...
DG: I kind of like setting up shows with new up and coming bands. You get more people in the door, and you have a chance to see some fresh new music. Because you can't just keep watching us constantly...
JP: We like playing with different types of bands, you know? It's music man, it's all good...
DG: If you're talented, you're talented. I don't give a shit what you play. I mean, I'm not saying a hip hop artist will be opening for us, or a Dwight Yoakam cover band, you know what I mean? (Laughs)
WC: Did you guys ever have any problems in the early days with "politics" getting into certain venues?
AL: Oh, yeah!
DG: Actually those just ended, because, I just turned twenty one on Monday. We were getting the third degree for fuckin' ever. You're trying to have a good time, then you walk into some of these venues, and they're like, everyone id's. I'm like, fuck! Then they take a big marker that takes three days to wash off and they "x" my hand with it...
JP: Yeah, but, as far as the politics goes, we gotta play the game. There's people we don't like, and there's a lot of venues we hate, but you know that you have to play them. So you just gotta play the right game... smile and nod, shake hands with everybody, you know? Whether we like it or not, it's politics, man...it is what it is, you gotta do what you gotta do.
WC: I see on the flyers for shows out here that The Kenosha Conservatory Of Music is always advertised on them. Tell me about their involvement with the scene.
JP: Well, The Kenosha Conservatory Of Music and The Extreme Sound And Lighting... those are the people who put on these shows. They bring the lights, the stage, the PA, all that stuff, and their shop is The Kenosha Conservatory Of Music. They teach kids, they have lessons for everybody and they put on the shows. So they work it, we work it, and it all comes together. So that's why it's always on there.
WC: Did you guys take lessons from them?
DG: I've been taking lessons with one of the guys for like nine years...
JP: Yeah, we've known them for years. It's really cool how it all came together.
WC: I was gonna bring up Extreme Sound And Lighting also. They do a great job with the shows out here. I was wondering... Do you think bands have benefited from their help to become more confident and better performers?
DG: I'd say without a doubt. There's a big difference when you play a show with four fuckin' candles and a shit PA, compared to a system and a full lighting rig.
WC: Do you guys ever critique your own shows after you've played a gig?
All Agree...) Every time!
AL: It's a football game, dude!
JP: Yeah! It's like football highlights. We record every show and we talk shit to each other. We watch it, and it's like... you fucked up here, you fucked up there, you did this wrong, you're a faggot! (All Laughing) I mean, if you go back and look at the first show we did... Oh, my god! It's so bad! But seriously, I think that's how we've gotten so much better live, you learn from your mistakes.
WC: I see inside your original self release of "The Onslaught" there's a group shot of the band. Dan is doing the classic Shawn Michaels photo op pose, with the rest of you guys surrounding him doing the Scott Hall "bow and arrow" point...
(All Laughing)
DG: Yes! Somebody got it!
AL: I'm glad people will know about this!
WC: Are you guys big wrestling fans?
DG: I'd say we aren't current wrestling fans, but, I grew up thinking Shawn Michaels was a pretty big bad ass! (Laughs)
JP: We were taking the band photos, and we're like, dude, everyone is so fuckin' serious, let's just do a fun one. I mean, we took serious photos too, but, after we saw what we had we were like, fuck it, we're gonna put that one in!
DG: Well, it wasn't even that. We were taking terrible pictures. We spent a whole day because we needed a picture. We just took a stupid ass picture... we were just fuckin' around, and it ended up being like, dude, sadly this is the best one! (Laughs)
WC: What's your favorite Shawn Michaels match?
DG: Favorite Shawn Michaels match? I'd have to say the Bret Hart vs Shawn Michaels Iron Man Match at Wrestlemania 12.
WC: Yeah, that's a good one. I also like the ladder match he had against Razor Ramon at Wrestlemania 10...
DG: Yeah! I like when he does the sign of the cross and jumps off the ladder! (Laughs)
WC: You know what's funny man? I was messing around online a few weeks ago, and I found this independent wrestling organization called Great Lakes Championship Wrestling out of Milwaukee. They've got a show coming up... I forget the date, but, they booked a match with; Scott Hall and Kevin Nash (The Outsiders) vs "Road Dogg" Jesse James and "Bad Ass" Billy Gunn (DX)
DG: Whoa! That's bad ass!
WC: I thought that was hilarious! So how do you guys feel about being described as "The Next Metallica"?
DG: Bad ass! Flattered...
WC: Any pressure to live up to that?
DG: Oh, no, I like the pressure...
JP: Yeah, you work better under pressure.
WC: Speaking of Metallica, What did you guys think of "Death Magnetic"?
AL: I thought it was a very good album!
DG: I know a lot of people don't like it, but, I'm a Metallica die hard. I love everything they've done, except for "ST. Anger". I fuckin' hate "ST. Anger"! (Laughs) A piece of me died when I heard that album. (Laughs)
WC: I think "Death Magnetic" is a good album, but, it sounds like Rick Rubin wanted to keep it stripped down with the sound... like, the riffs are really prominent. I miss the old Metallica crunch they had on those first few albums. Do you think that's kind of missing on the new one?
DG: I think they did that to make it sound... Well, I mean, "Load" and "Re-Load" had that stripped down feel too. I think they wanted to go back to their roots completely... just with high class equipment, producers, and shit like that. I think they wanted to be a reborn Metallica, because, they died on "ST. Anger"...
AL: They knew that, too...
JP: For sure, they know...
DG: Honestly, the first couple times I listened to it, I thought it sucked. By the fifth time I was like, dude, this is starting to grow on me... and by the tenth time, I was jammin' out and saying this is awesome! (Laughs)
WC: Were you guys pissed at Metallica when they were against music down loading?
DG: Not at the time, because I was way into Metallica, and I didn't have a computer capable of downloading Napster...
AL: It didn't matter, I bought all the cd's anyway...
JP: Exactly. Lars is a bitch, everybody knows that. On the other hand ,he was just trying to do something, but now it's too late, you know what I mean?
DG: People have stolen so much, and now it's starting to bite everyone in the ass. The econmy is fucked and musicians aren't making the money that they should be. Because it really hurts bands like us who are just starting off when people are down loading. Obviously Metallica has money to spare, and that's why they became the ones to be crucified. (Chuckles) I mean, Dr. Dre and a bunch of rappers were into it too, but it just happened that Metallica were spearheading it.
WC: With a lot of young thrash bands coming out these days, do you fear the thrash scene will eventually burn out?
JP: Definitely, it's gonna burn out...
DG: Only the strong prevail...
JP: Exactly. That's usually the way it is ,though. We don't wanna be lumped in with all these retro style thrash bands. I'm sure they're good bands, and they play good music, but, we wanna do something different, you know? This next record that we do, it's not gonna be just ten thrash songs, it's gonna be an evolution... just like Metallica did...
AL: Realistically we're looking to make good music...
JP: Yeah, whether it's thrash, whether it's rock, whether it's groove...
AL: We'll always have our thrash metal roots...
JP: Yeah, exactly. We'll always have our influences and whatnot, but at the end of the day, I feel we'll be one of those bands that will survive through that for sure.
WC: Any predictions on what you guys think will be the next big thing in metal?
DG: The next big thing in metal? Lazarus A.D. (Laughs)
WC: I knew you were gonna say that! What do you think was the worst trend?
DG: For metal?
WC: Yeah!
DG: I see a lot of people now wearing the Nike pumps with the shoe laces all hanging out, and they'll be wearing a denim vest with patches and shit on it. I mean, that made sense back then, but not now! (Laughs)
*At this point in the interview Shaun Glass of the band Dirge (ex: Soil, Broken Hope...) interupts our conversation waving a chair over his head!*
(All Laughing)
DG: Make sure that makes it in!
WC: No problem!
*Shaun interupts us briefly to discuss what kind of beer they'll be drinking after the show. He also informs us that it's hot as hell up stairs where the stage is located, and it smells like every kid has gas!*
WC: What would you say has been your biggest "Spinal Tap" moment?
DG: (Laughs) There's been too many!
JP: It's gotta be the one in Denver...
DG: Denver? What happened in Denver? Oh... that was "Spinal Tap" for sure! In the song "Who I Really Am", I have this big guitar solo that's long as hell. I start off with a note by myself... (Imitates a guitar sound with his mouth...) and the whole band drops out. Through out the show I was having problems with my amp, the sound guy fucked up, and it was cutting in and out. When I got to that part in the song, it finally went dead... nothing. I was pretending to play a guitar solo and no sound was coming out. So I'm playing with my teeth and shit, it was horrible!
JP: The entire solo is like a two and a half minute endeavor, and nothing is coming out of his guitar. So he's picking it up above his head and going crazy!
WC: (Laughing...)
JP: They loved it ,dude, it was great! What were we supposed to do? We couldn't stop, they were thrashin'... that's the #1 rule, never stop.
DG: Or there's the time we opened for Anthrax. We were young as hell and this kid...
WC: I saw that show...
DG: Oh, did you?
WC: Yeah, that was at The Rave In Milwaukee , right?
DG: Yeah. Well, this is probably something you didn't know. We're like, yeah, we're bad ass, we're gonna do the guitar whip... you know, where you whip the guitar around. This mother fucker (points at Jeff..) detaches his fuckin' wireless. He's up there in front of thousands of people...(Reinacts Jeff struggling...) trying to reattach his wireless. (Laughs)
JP: I'm on stage and I had to bend down to put the fuckin' thing back in!
DG: Then there's the time we played here. I drank a bunch of tequila before we went on stage. I tried to do this one rock star move, and fell into Jeff while he was singing and shit. Those are just off the top of my head!
WC: What goals and aspirations do you have now that the album is released?
JP: Complete and utter domination! I don't want people to say... their cd was pretty good or they were pretty good live. I want them to say... you have to see these guys live and you have to pick up their cd. We wanna be the premiere metal band.
WC: I hear you guys will be going out on tour with Amon Amarth. Very cool!
JP Yeah! That tour starts in April.
WC: Are there any dates out here for that tour?
JP: No! (Looks over at Dan...) Can we spill the beans?
DG: I don't think were allowed to say anything...
JP: We have another tour coming soon...
WC: TBA?
JP: Yeah!
AL: It's a good one, we'll just say that...
JP: I'll just say you'll be very stoked.
WC: Thrash oriented tour?
JP: What's up?
WC: Is it a thrash tour?
JP: I'm just gonna say it's an amazing bill. I'll tell you off the tape.
WC: Cool!
JP: Hey! (Jeff points to his shirt revealing the headlining band they'll be touring with... TESTAMENT)
WC: Hell Yeah! That's a good tour!
(All Laughing)
WC: Thank you so much for your time guys. Any final words for your fans?
DG: Thrash Or Die Mother Fuckers!
AL: Drink A Beer!
DG: Pick up "The Onslaught". It took a lot of blood, sweat, and beers to get you that cd. So pick it up, have a cold one, smoke a dube, and rock out!
Metal Blade's Website
Lazarus' MySpace site