DRUID LORD "Up From the Tombs"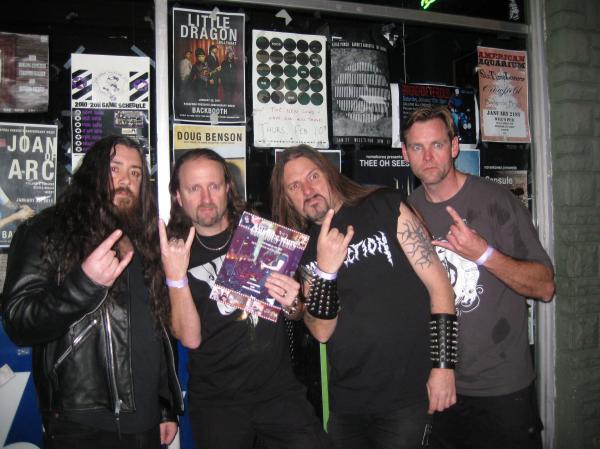 By Dr. Abner Mality
If you are planning a walking tour of corpse-filled catacombs, what sort of music would you pick to accompany your trip? Gregorian chants or ominous church organ might be appropriate. But the best choice would be doomy death metal and when it comes to that particular art form, few are better than Florida's grisly DRUID LORD!
Arising from the depths of Florida's death metal scene, this grim band lives and breathes the foul sounds of horror. They find a perfect balance between bone-crushing aggression and dark, doomy atmosphere. This is heard nowhere better than the latest Druid Lord album "Grotesque Offerings", out now on the esteemed Hells Headbangers label.
It was the perfect time for me to descend into the crypts and speak to head Druid PETE SLATE about all things horrid…
WORMWOOD CHRONICLES: Hail to Druid Lord! You guys have come up with a horror metal masterpiece in "Grotesque Offerings". Which bug bit you first..the classic horror bug or the metal bug?
Pete Slate:   Thanks for the compliment. The horror bug I'd say. For me personally I loved Halloween as a child. Getting all dressed up in spooky clothing. I was always excited to find the scariest house on our street. This turned into an obsession with creepy comics, books, art..whatever. I also discovered bands like Kiss, Zeppelin, AC/dc as a kid. Then it was Sabbath that totally changed my life musically. In my early teens it was bands like Exciter, Slayer, Possesed, Venom....
WC:You have roots in the Florida death metal scene. Tell us a bit more how you evolved out of that scene.
PS: I've lived in FL my whole life. I grew up as a teenager in Central Florida not too far from Altamonte Springs where Mantas/Death started. I was about the same age as those guys at the time and I heard about their gigs and recordings. I was listening to a lot of Exciter, Metallica, Slayer, Possessed, Hellhammer, and music like that. I had a few metal bands but nothing really came out of it. Then myself and Mark Levenia (ex-Incubus) put an ad out in a local magazine looking for a vocalist. Kam Lee answered the ad and we met up and discussed metal at length. He had been in Massacre but just only did the demos at that point. We formed a band called Abhorrent Existence. This was around late '88 to about summer of '89 if i remember correctly. That fizzled out and Kam rejoined Massacre. Mark and I    then hooked up with Incubus who had just moved to FL from LA. They already had the "Serpent Temptation" album out. We commuted from Orlando to Tampa almost every weekend learning their new material that would later appear on "Beyond the Unknown". I had decided at that point in '90 to leave Incubus before the recording of the album. I didn't think they were getting signed but they did eventually to Nuclear Blast.  I hooked up with Vincent Crowley and we had a band called Mythos. We had a whole album worth of material but there was a huge demand for Acheron to reform (with a record deal). Acheron was reborn with myself on guitar and we did the "Rites of the Black Mass' album. I left Acheron in fall of '92 and formed Equinox that winter. Equinox was my primary band for years. We recorded a few albums between '95-2005. Then of course Druid Lord was born in 2010 with ex Equinox member Stephen Spillers and Tony Blakk
WC:What are your memories of those days? What was the thing you miss the most of those times?
PS: Just how new and exciting everything was. It seems most bands just had their own style of metal. Life was moving fast back then.  I mean I got to hang out and see Morbid Angel so many times. I remember hanging out at the Morbid house meeting Trey, Richard and all the guys. When I was in Incubus we jammed real close to the Nocturnus guys so i got to see them rehearse a number of times. I saw Amon before they were Deicide. Death played around quite a bit. Obituary was just starting out. There were metal shows all the time. It was an exciting time to be around the Tampa/Orlando scene. Don't get me wrong, there were back stabbers around every corner, but to be a part of the scene those days was glorious!
WC: You've got a song called "Night Gallery" on the album so you must be fans of the show! What were some of your favorite episodes?
PS: For sure. Rod Sterling was the man! The Doll, The Cemetery, Witches Feast, Last Rites for a Dead Druid, Sins of the Father...there are just too many to mention. I watched the reruns so much as a kid. Our song is about how each painting in the Gallery tells the story of some tragic person's life or the mind of a sadistic person. 
WC:There's another tune on there called "Creature Feature". That was the name of an old horror movie series in Chicago, which I live close to. Were there old local horror movie shows and hosts that inspired you to write the song?
PS: Exactly,  used to stay up late always excited to watch Creature Feature. I lived in South FL at the time and the show was broadcast from a Miami station. That was really my first introduction to horror movies back in the 70's. Just the whole atmosphere of the show was a huge influence. I even watched Elvira Mistress of the Dark back in the early 80's. Great B horror movies. 
WC:There's a song inspired by the legendary Mr Hyde. Who was the greatest Mr Hyde in your opinion? Or were you influenced strictly by the literary story? 
PS: It was the book that I read as a child.  There been many adaptations of the book but the 1931 movie version  just has a cold feel to it. That's the best one in my opinion. Those older movies are great capturing the mood. 
WC: Playing a doomier sort of death metal is a change from the usual fast Floridian stuff. What's the biggest challenge of playing slower death metal?
PS: For us there really is no challenge. We play the type of music we like. We have slow parts of course but we do still have elements of Death Metal. The benefit of playing this style of music is we can play with bands like Obituary, HOD, Deceased and then play with bands like The Obsessed,  Cough, and the more doom/stoner vibe. So we can pull both off to some degree.  Our influences come from bands like old Celtic Frost, Death , Possessed ,Necrovore, Winter, and Cirith Ungol... We don't see  playing this style of music a challenge because people get what Druid Lord is all about. Not to mention there are other great bands playing this style like Hooded Menace, Catacombs, Spectral Voice..etc.
WC: Would you agree that doom has a lot more atmosphere than just relentless blasting?
PS: I personally think so. There are so great bands that blast intensely all through their music and can pull it off. On the other end of the spectrum there are bands that just all sound the same. I want people to feel the riff and the heaviness of the songs. I want our music to hit you in the face and your body to feel the vibrations when we play live.  Every note should make sense. The songs are in place to create some sort of emotion. That's what we are going for..that feeling of dread and gloom. 
WC: You open the album with some great eerie church organ. Is this something we may hear more of from Druid Lord in the future? 
PS: Maybe, We all dig those old eerie organs, synths. You'll hear all sorts of samples on all our records really. I'm a huge fan of old 70's electronic music like Klaus Schultze, Sensations Fix, Tangerine Dream, and tons of obscure stuff. Tons of dark music those old albums for inspiration. 
WC:The last song "Final Resting Place"is a very atmospheric soundscape. What was the inspiration and will there also be more of this?
PS: This was a selection written for DL a few years back by a good friend of ours Madeline Sonya. She had the connection with the band and wrote that piece for us to use. Madeline got what Druid Lord was all about. We've used outros before but this was perfect for the new album. 
WC: I think Druid Lord would be a great double bill with your label mates Acid Witch. Any connection with these guys?
PS: Hell yeah, I totally dig Acid Witch. I've been a fan of theirs since the beginning. We for sure play gigs with them if asked. I've corresponded with Slasher Dave and their guitar player Mike. I'm all about their Halloween and creepy vibe. 
WC: Do any of you have other bands or side projects you're involved with?
PS: No, not at the moment. My previous band Equinox just did a show for the first time in years in December. Equinox was around in the 90's and we did a few albums. More of a black/death style. Elden Santos our drummer plays in Tribute bands to Iron Maiden, Slayer..etc
WC: How did your relationship with Hells Headbangers come about?
PS: I actually had contacted HHR back in 2010 before we did the "Hymns" album but they had a full release schedule. When it came time to look for labels for "Grotesque Offerings" they were the first one we thought of again. By this time we had been more established in the scene. I was excited to work out a deal with them. My friend Kevin from Gravewurm knew the guys from the label and helped establish a relationship.  Hell's Headbangers is one of the leading metal labels out there today. 
WC: Any plan to collect all the material you've done on splits and 7"'s over the years into one release?
PS: We've actually talked about that. There are some great songs that not many people heard.  We may even record two old songs on the next Druid Lord album. The more music we get out there the better. 
WC: Any live plans for Druid Lord?
PS: Do some touring this year. I'm working on getting the right contacts to put DL on the road and hopefully in Europe (fingers crossed)
WC: If you could have dinner with any 3 people from history, who would they be?
PS: Man, that's a hard question. Tony Iommi. I'd have some many questions about those early Black Sabbath tours. Also about his guitar set up and tone he used over the years. General George Patton as I'm a WW2 nut, and Oliver Reed, one of my all time favorite actors. 
WC: What was the last release you got because you wanted to hear the band?
PS: I'm into all sorts of music. I buy a lot of vintage vinyl. I just got the 1st two Runaways albums. I bought the last Spectral Voice album recently. Phrenelith's last album was damn brutal. Totally looking forward to the new Hooded Menace and Acid Witch albums.
WC: Have you ever had a Spinal Tap experience where things went wrong that you could share with us?
PS: Just random shows we've had some mishaps. We played in Panama Beach, Fl last year where I totally forgot the guitar riff at the beginning of the song. I had to act as if my amp was fucked up..hahaha.  We had a harmonica player jump on stage with us during a house party even..that was weird. Drunks spilling their beer all over my pedals and dumb ass things like that. Years ago when Equinox played a gig this woman went down and gave oral to another woman...on the front of the stage. During our song "The Enchantress" no less..haha. We were all like "is this really happening?"
WC: Last words for the fiends out there?
PS: Thanks for the interview my friend. Check out our latest album "Grotesque Offerings". The LP version will have some extra goodies..... check out our merch at
www.druidlord.com