DORO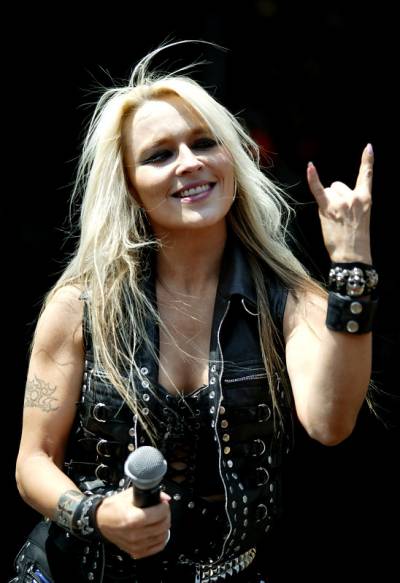 "Queen of the Wild"
Interview by Dark Starr
It's getting less and less unusual to see beautiful women playing kick ass heavy metal; with Kittie being the latest example of female ferocity. But, Doro Pesch was one of the first to combine beauty and power. After being the lead singer of Germany's Warlock, she has gone on to a very successful career in Europe with her solo band Doro. Now , after a lengthy absence from the US, this metal princess has returned with a new album, "Calling the Wild", and an opening slot on a tour with Dio and Yngwie Malmsteen. (Dark Starr caught up with Doro recently and the blonde bombshell revealed many telling incidents from her past for Wormwood--Dr. Mality)
Wormwood Chronicles: You have been away from the US scene for a long time. Why was that, and why is now the time to come back?
Doro Pesch: I tell you, to be honest, it was never my choice. I always had a world-wide record deal, but it didn't mean anything because they wouldn't release the records in the states anymore. It was impossible to go on tour. Luckily now we have a new record deal with Koch, and they put the record out a couple of weeks ago. Now we can go on the road again. If it would be up to me, I would always stay out making records and stuff, but they didn¹t come out. It was very unfortunate.
Can I just tell you how I got the new record deal? It's wild. This guy in the states was doing the internet and the web page. His name's Tony, and he's been doing the American fan club for seven or eight years. On the last tour, he came to Europe and went to a couple of concerts. He was so excited. He asked if he could do something in the states. I said, "whatever you think you can". He said, "can I get permission to send out CD's or tapes of the last record?" I said, "yeah, do whatever", He sent out cassettes, didn't even bother to burn the CD.
WC: The new disc features some interesting guests. How did those appearances come about?
DP: Al Pitrelli (Pitrelli has worked with Alice Cooper, Dee Snider, Savatage and has just joined Megadeth--Dr. Mality), he was very spontaneous. I met Al Pitrelli in Cologne, Germany after a Savatage concert. We always wanted to work together for many many years, but every time we contacted him, he was on the road with Alice Cooper or Dee Snider. It never worked out. Then, last year, I met him in Cologne, and I said, "Al, I'm working on a new record." He said, "I'd love to play on it, and how about right now?" It was like 3 O' Clock in the morning. I said, "I don't know, we can check if people are still in the studio", but then nobody was there. I said, "how about tomorrow morning?", and he said, "OK, I will be there." He extended his stay in Germany and came to the studio the next morning with the whole road crew. He played all those great solos and licks. So, it was really a spontaneous idea.
With Slash (Guns N' Roses, Snakepit), it was my band just laying down the basic tracks for this one song, "Now or Never." Two days later, I wanted to come over to New York and sing, and then they went to a concert in New York. It was like a festival, and they ran into Slash there backstage. The guys started to talk, and Slash said that he was just mixing a record in New York.
This one guy from our band just asked him if he'd be into playing the solo on this one particular song. Slash said, "I would love to, but I¹d want to hear it." They gave him a little tape and he said, "yeah, yeah." Then he came back the next day with a big bottle of Stoli and 10 packs of cigarettes for breakfast, and he played his solo. It was actually almost a surprise for me. Then I came to New York the next day, and I listened to the solo and it was great. Then, we went through some clubs and the whole night scene in New York. We had some good talks because when Guns N' Roses had their first record out, it was the first record we had out - or the first tour we did with Warlock back in the day. So we exchanged some good stories. It was really great. He was a super nice guy.
Then Lemmy (Motorhead) - that was my idea to contact him. I met him many many years ago. 18 years ago we played in Europe, many festivals, and the we lost track somehow. Then after a long studio day, I wanted to listen to some Motorhead stuff. I put on "No Sleep At All". The band gave it to me, and it was on vinyl. I hadn't listened to a vinyl record in a long time. I plugged in my record player, put the record on, and on the inner sleeve there was this little photo of Lemmy and me. I think it was taken at the Monsters of Rock festival, 1986 or 1988.
That picture looked so cute. I thought, maybe I'll give him a call or write him a letter. I wrote him a letter and said, "hey, Lemmy, it's me, Doro from Germany, and how about we do something together or write a song together." Anyway, a couple of days later, the phone rang, and somebody at the other end said, "hey, it's Lemmy." At first, I thought, it's one guy of my band playing a little joke because I told everyone that I wrote that letter. He said, "Man, it's really me. I think it's a great idea, let's do something any time." The next day I bought a ticket and I flew over to LA We recorded the two songs together, "Alone Again" and "Love Me Forever". Lemmy was a super sweet guy and really cool to work with. I couldn't kepp up, drinking with him. That was impossible, but everything else was super.
WC: Are there any other musicians who you would like to work with?
DP: Yeah, actually, there are great musicians out there. At the moment I'm still so happy that I did the stuff with Lemmy. It was definitely a dream come true. I would love to work with James Hetfield or Rob Halford on something.
WC: You seem to have a unique perspective in that you were one of the first women in the metal scene. What has that taught you?
DP: I don't feel it necessarily as a woman. I love music and (I) am just a human being who loves music and would like to give everything to it. I think there's not much difference. It's very hard to survive for anybody in that business. In the beginning I thought it would be much easier. It was quite tough. I'm so glad that I can still do it. I realize that it always goes up and down. The first couple of years in the '90's it was quite hard for heavy metal when grunge hit... when Nirvana hit; that was like the end of all other heavy metal bands for a couple of years.
That's when the records didn't get their US release any more. In Europe we could still go strong and touring was good, and concerts were sold out. But in America, it was really hard. I learned that you always have to fight for it, and keep at it. Stick with it, and fight for what you believe in. Go out on tour, and dedicate your whole life to what you love. I think you always have to follow your gut and your heart and your instincts. I think that's a good lesson. I always believed that, but the longer I do it, the more I know it's important to stay true to your faith and what you feel - not let anybody take over or have too much input.
WC: What do you see as the differences between working with Warlock and the solo career?
DP: Not much at all, it was never my idea to not have Warlock anymore. It was just unfortunate that we couldn't use the name anymore. I just tried to keep up the Warlock spirit, but it was hard to use a different name. The record company said, "you can't use a different band name. You have to name it Doro, otherwise that will be the end of the contract." So, I said, "OK, we¹ll name it Doro." But, we still play all the Warlock songs.
WC: What has been your biggest Spinal Tap moment?
DP: Oh, I have a good one. For many years I didn't think of this, but yesterday I had an interview, and this guy is writing a book on heavy metal/hard rock, so I thought of this story again. A long time ago, during the Warlock days, I had this manager in Germany, and we wanted to have international management, especially America or England. So, we got hooked up with these weird people in England. I always felt nervous about it because they were very shady. The deal was that we would work together for one year, and after the year we would sign the contract. I went with my German manager in England after this one year. When we were sitting on the plane he said, "We can't sign this contract. The company is totally bad." I said, "I agree. We can't sign the contract."
So, we went to England, went to this bar where we wanted to meet. We went to sit down and tell the guys to forget it, we aren't signing it. So we came in, and there were like eight people sitting there waiting for us. There were two guys who were like the management team. And the other people, you could feel (that) had the baseball bats in the back. We could tell that it was a situation where if we didn't sign they would probably kill us. We decided that it was impossible to do anything.
I almost started crying. I thought, "what shall we do?" We could, luckily, speak German. I said, in German, "Peter..." Peter was the name of my manager in Germany. I said, "Peter, what shall we do?" He said, "I don't know." I said, "you know what? Shall we run away?" He looked at me and said, "Doro, I think that's the only solution." We both ran. It was like a real Spinal Tap movie. We were lucky.
"Dark Starr" Gary Hill is the editor/mastermind of the web-based magazine
Music Street Journal
, which can be found at
http://www.musicstreetjournal.com
. To contact the writer of this article, send your email to:
darkstarr@wormwoodchronciles.com